Music is such an important part of a senior activity program, and many activity directors make sure to include lots of entertainers and performances on their monthly activity calendar. While those special events are fun, they can allow residents to become pretty passive, where they just sit and listen.
Another alternative, however, is to use musical instruments to get senior residents actively engaged with the music. Here are 4 percussion instruments to add to your senior activity program.
Drums
Drums are one of the easiest musical instruments for residents to use, and most residents are familiar with them. After all, doesn't everyone want to be the drummer in the band? By adding in a few drumming activities for your residents, you can provide musical activities that are much more creative and engaging for your residents.
Equipment:
Cardio Drumming equipment:
Drum Circles – a circle of residents who are each playing drums together in rhythm
Drum circles provide an opportunity for residents to connect with one another using music. Residents are able to work together creatively to make a harmonizing rhythm. There can be a leader in the drum circle who facilitates the activity, or just the participants who beat their drums freestyle, where they enjoy moving to their own beat. For the activity, pass out a drum to each resident for them to play.
Cardio Drumming – residents hitting drums as a form of exercise for their arms
Cardio drumming allows residents to exercise while playing together, usually along to a song that is being played in the background. Residents can either sit as they beat their drum, or stand for maximum cardio. For the activity, provide each resident with their own yoga ball or beach ball, a container for the large ball to rest on as they are beating it, and drum sticks. During the activity, play upbeat songs for residents to get a great arm workout as they beat the balls to the beat.
Learn more about Cardio Drumming and the equipment options here.
Boy Band – male residents (or all residents) play their own drums freestyle, creating their own music
Freestyle drumming provides lots of benefits for residents, including increased creativity, lower stress, and improved feelings of well-being. Consider scheduling a weekly jam session for the men in your facility to socialize and just have some fun.
Xylophones or (Glockespiel)
Xylophones can be a great instrument for sensory stimulation activities. They work well with one-on-one activities, and they can also be used as a way to provide bedside musical activities for your bedridden residents.
Equipment:
Additonal Options:
Repeat After Me – resident plays the same note on their xylophone that you play on yours
Having residents mimic you on a xylophone helps them identify sounds better while also helping them improve their fine motor skills as they tap the xylophone bars with their mallets.
Learning Scales – teaching residents musical notes on the xylophone
Use xylophones to introduce your residents to musical notes, or if they are musically inclined, have them teach you the scales. For the activity, tap each of the bars as you explain which note you are playing.
Play Along – play popular songs in the background for residents to play along to while tapping their xylophones
Since most songs do not include xylophone music, residents can easily hear their instruments as they play along on their xylophones while listening to the songs. During the activity, encourage residents to play lower notes on their xylophone when the songs are in a lower key and higher notes when the songs are in a higher key.
Bells
Bells are fun and simple instruments that can be used by all residents. Hand bells can be easily gripped by residents; however, attachable wrist bells are ideal for residents who have problems with their fingers.
Equipment:
Additional options:
Musical Exercise – pass out wrist bells for residents to wear while doing arm exercises
One way to get more people out to your Exercise Class is to shake things up a bit, like adding in music. By simply wrapping bells to the wrists of your residents, they can enjoy the sound of the jingle bells as they exercise.
Hand Bell Choir – lead residents in a hand bell performance
Teach residents how to play their hand bells together to make music. Host a weekly hand bell choir activity where residents can practice. Once everyone learns their part, schedule a fun hand bell choir performance for family members.
Hand Bell Simon – have your resident repeat the sequence of hand bells you use
Remember Simon? It was the electronic memory game from the 1970s and 1980s in which the device provided a music sequence that you had to replicate. For each turn, the device added a new tone to the sequence for you to repeat. For the hand bell activity, do the same thing using two sets of hand bells – one set in front of you and the other set in front of your resident, making sure that identical bells are directly across from one other. Then begin by ringing one bell and have your resident ring their identical bell. Then ring the bell again and add on another bell, and ask your resident to do the same. Keep going until your resident is no longer able to memorize the sequence.
Maracas
Most residents are familiar with maracas as they are heavily used in Latin and Caribbean music. Wooden maracas are popular, as they can be painted and decorated as a fun craft activity before the musical activity starts. They are super easy to make – simply fill a few empty prescription bottles with dried beans or rice, and you're all set!
Types of Maracas:
Sing Along – play music for residents to sing and play along to
Because maracas are so small and easy to store, they are the perfect instrument to keep on hand for your regular sing along activities with your residents. Simply pass out the maracas and have residents shake them to the beat of the music.
Conga Line – lead residents in a line as they dance and shake their maracas to music
Seniors are very familiar with the Conga line that was made popular in the 1940s. For the activity, simply play fun Latin music and have residents follow you in a line throughout the room as they shake their maracas.
About Not Just Bingo: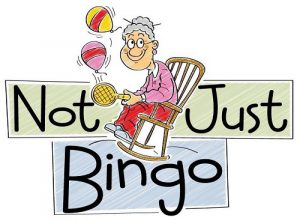 Not Just Bingo is an online resource of fun, senior activity ideas for activity professionals of nursing homes and assisted living facilities. They have been providing fun activity ideas online since 2009, and continue to assist activity professionals across the country by creating meaningful and engaging activity ideas for their residents that go "beyond bingo." Not Just Bingo feels privileged to help activity directors better the living experiences of their residents while demonstrating that a senior's quality of life can actually improve when they move to a nursing facility!
Want even more ideas each month? Visit www.notjustbingo.com for how-to activity ideas, monthly newsletters, and daily holiday ideas. You can also sign up for the Notjustbingo Membership to receive specialized activity ideas to keep your residents and staff engaged, active, and having fun!