Have fun celebrating Black History Month with the senior residents of your nursing facility this February. Use the whole month to educate, inform, and engage your residents about the important contributions made by African-Americans in this country. Be sure to try out a few of the following ideas to help your residents share memories, remember history, provide education, and partake in fun and games as it relates to African-American culture.
Share Memories
Help your residents remember and chat about important events in the African-American community. For instance, plan fun activities as you invite residents to Reminisce About the March on Washington in 1963 and Read the "I Have a Dream" Speech.
Reminisce About the March on Washington in 1963
Start a discussion with residents about what they remember about the March on Washington in Washington, D.C. in 1963. In addition, encourage residents to discuss the Jim Crow laws of the South and the Civil Rights Movement of the 1950s and 1960s.
Read the "I Have a Dream" Speech
Print out a copy of Martin Luther King Jr.'s "I Have a Dream" Speech that he gave on the steps of the Lincoln Memorial in 1963, and take turns reading it. Simply pass the copy around for residents to read a passage out loud. Afterwards, ask residents to discuss the speech's impact in history.
Remember History
Organize activities during the month that will help residents remember historical African-American events of the past. Schedule historical activities like Share a Quote, Read Black History Events, and Teach Songs for your residents to enjoy.
Share a Quote
Decorate your nursing home bulletin board with African-American quotes, and encourage residents to read them. In fact, share a different quote with residents at the beginning of each day, asking residents to discuss the quote's meaning.
Read Black History Events
Each morning, read about a different Black History event with your residents. Afterwards, ask residents to discuss what they remember about the event.
Teach Songs
Teach and sing songs from the Civil Rights Movement, like "Lift Every Voice and Sing" and "This Little Light of Mine." After each song, ask residents to comment on what the lyrics of the song mean to them.
Provide Education
Use the month of February as an opportunity to educate your residents about the impact made by African-Americans in this country. Provide activities like a Reading Comprehension Group and a Name That Person guessing game.
Reading Comprehension Group
Use flashcards to create an interesting reading comprehension activity for your residents. For the activity, provide a flashcard to a resident and ask them to read the passage out loud. Then ask residents to answer questions based on the passage.
Name That Famous Person
See how well your residents are at recollecting as you ask them to recall the names of famous African-Americans. Simply read the biographies of famous African-Americans and ask residents to try to identify the person described.
Partake in Fun and Games
Don't forget to have fun with your residents during Black History Month. To do so, be sure to organize fun games and tournaments like a Mancala Tournament, an Ancient History Poster Decorating Contest, a Black History Month Dinner, and a craft to Make African Masks.
Mancala Tournament
Teach residents how to play the fun African game mancala. Organize a tournament for this 2-person game by having residents play one another and then having the winners of those games play one another until there is only one person left – the Mancala Tournament Champion.
Ancient History Poster Decorating Contest
Use an ancient history poster kit to help your residents show-off their creative talent while decorating the posters. Supply each resident with a poster and the markers from the kit to decorate for a fun contest. Recruit an administrator to judge the "Best Ancient History Poster" before displaying them on your Activity Room's walls.
Host an Black History Month Dinner
Coordinate with Dining Services to celebrate the foods of African-American culture by hosting a special dinner for your residents that features traditional African-American foods like cornbread, turnip greens, and black-eyed peas.
Make African Masks
Pay tribute to the African history of African-Americans by hosting a craft session for residents to decorate African masks.
About Not Just Bingo: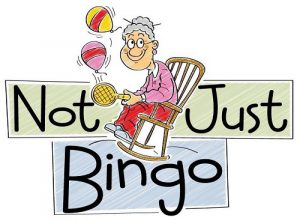 Not Just Bingo is an online resource of fun, senior activity ideas for activity professionals of nursing homes and assisted living facilities. They have been providing fun activity ideas online since 2009, and continue to assist activity professionals across the country by creating meaningful and engaging activity ideas for their residents that go "beyond bingo." Not Just Bingo feels privileged to help activity directors better the living experiences of their residents while demonstrating that a senior's quality of life can actually improve when they move to a nursing facility!
Want even more ideas each month? Visit www.notjustbingo.com for how-to activity ideas, monthly newsletters, and daily holiday ideas. You can also sign up for the Notjustbingo Membership to receive specialized activity ideas to keep your residents and staff engaged, active, and having fun!