Need some ideas to rid the cabin fever for your nursing home residents during the winter months? Try out a few of these fun activity ideas this winter from notjustbingo.com.
Host a Winter Picnic. Turn your Activity Room into a cozy picnic spot for residents to sample winter comfort foods. Decorate the room with flannel fabrics and a few strings of white Christmas lights. For the picnic, coordinate with Dining Services to serve winter favorites like vegetable soup and grilled cheese sandwiches.
Be the "Bartender". Set up a bar in your facility's lobby and become the bartender as you provide made-to-order hot cocoa throughout the day for residents to enjoy. Use a variety of extras like marshmallows, chocolate chips, caramel sauce, whipped cream, sprinkles, and even crumbled cookies for the hot chocolate. Use candy canes or cinnamon sticks as the stirrers.
Build Snowmen. Host a fun competition to see who can build the best snowman (indoors) using fake snow. Simply mix together an 8:1 ratio of flour to oil (8 cups of flour to 1 cup of oil) to create moldable "snow" for residents to build their snowmen. Supply buttons and ribbons for residents to embellish their snowmen. Or, you can use air dry clay to create your own DIY snowman.
Go Bird-Watching. Create a winter bird-watching station near the largest picture window in your facility where nursing home residents can view your neighborhood birds using binoculars. Set up a toaster oven nearby where you can easily bake cookies – to attract even more residents to stop by to bird-watch.
Plan a Skating Party. Who needs to skate? Just hold a fun reminiscing party for your residents in which you encourage them to reminisce about their skating days. Encourage residents to dress the part by wearing their earmuffs and scarves to the event.
Compete in the Winter Olympics. Set up several fun games that your residents enjoy, but be sure to add a twist so that it relates to winter. For instance, play a ring toss game, where residents throw the rings around a stuffed snowman. Afterwards, award prizes or medals to all the participants.
Schedule a skiing competition. Set up your Wii game and invite residents to
compete against one another in a fun skiing competition.
Make snow angels. Plan an inter-generational craft for your residents and their grandkids to make, like these snow angel dolls for snow angels. Then they can be used as wintertime decoration throughout your facility.
Shovel Snow. Use plastic shovels and white packing peanuts to host a fun shoveling competition to see who can shovel their pile of snow the quickest. Beforehand, be sure to rub the plastic shovels with a cloth to create static electricity – to make it a bit harder for participants to shovel the packing peanuts that will end up sticking to the shovel.
Tailgate at a Hockey Game. Don't worry about getting tickets. Simply find out when your city's professional hockey team is playing their next hockey game and watch it on television. Serve nachos and cheese, and popcorn for residents to snack on during the game. During the tailgate, set up a hockey net for residents to show-off their puck-hitting skills.
Find more ideas from Notjustbingo on the S&S blog here.
---
About Not Just Bingo: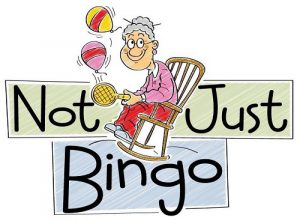 Not Just Bingo is an online resource of fun, senior activity ideas for activity professionals of nursing homes and assisted living facilities. They have been providing fun activity ideas online since 2009, and continue to assist activity professionals across the country by creating meaningful and engaging activity ideas for their residents that go "beyond bingo." Not Just Bingo feels privileged to help activity directors better the living experiences of their residents while demonstrating that a senior's quality of life can actually improve when they move to a nursing facility!
Want even more ideas each month? Sign up for the Notjustbingo Membership to receive specialized activity ideas to keep your residents and staff engaged, active, and having fun!