Objective: To enhance descriptive, expository, and creative writing using scraps
Age: 6+
Time: 30-45 minutes (writing/art varies)
Grades: K-5
Materials:
Using Collages to Enhance Writing
A pre-writing visual can help stimulate and enhance students' descriptive writing.
The creative use of scrap paper will also excite a lesson. These colored visuals will undoubtedly help the writer with descriptive language and make the process easier and sometimes more enjoyable.
Sample Writing:
Sample 1: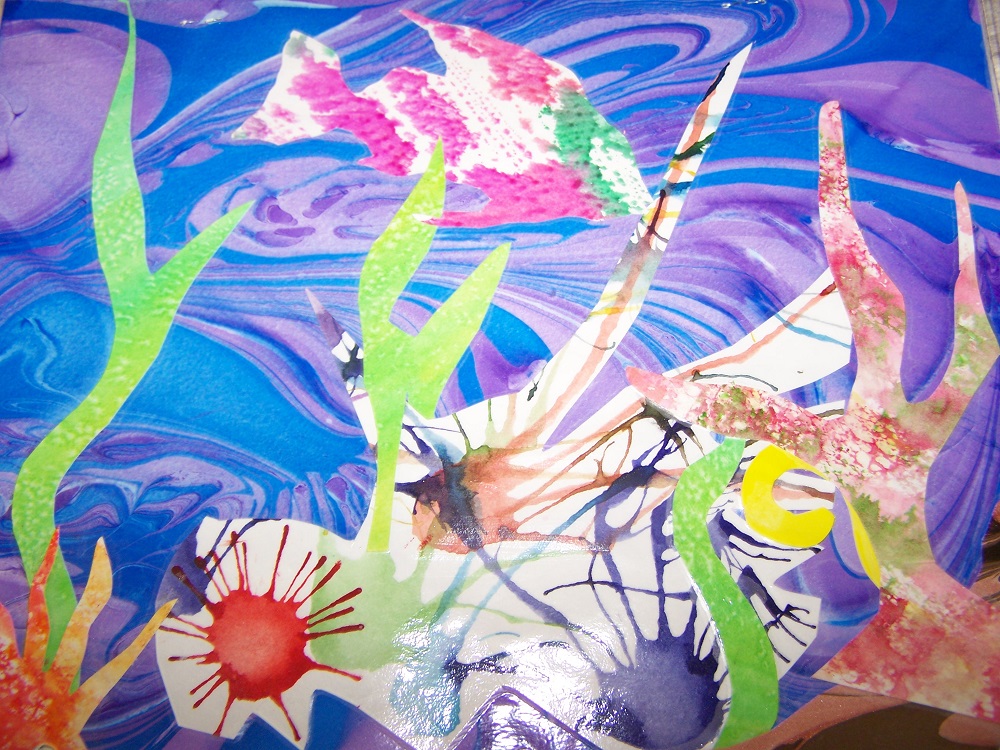 Tie Dyed
Tie dyed fish against a watery aqua backdrop, searching among a firework array of sea urchins, reaching reaching deep into a seabed of relaxed anemone, disappearing
behind green, salted seaweed, spontaneously changing like a  curious young child.
Gift Goes On Program, 2001
Have students circle the descriptive words! The water would not be the same without them:
Watery backdrop
Deep seabed
Relaxed anemone
Salted seaweed
Curious child
Sample 2:
Martin Luther King Day – I Have a Dream speech (Use scrap paper for figure cutouts)
Lesson Details
When using verbs, adjectives, and nouns, it is motivating to give the children scraps to create pictures of animals, people, places or things to describe once a week for practice; ages 5-8. Younger kids may need to dictate their thoughts instead of writing.
It's time to save those scraps. It's time to describe the action seen and use your imagination to create a narrative story, poem, expository paragraph, enhance vocabulary development or a topic studied in class.  Brainstorming is a wonderful way to generate new and descriptive vocabulary. Leave the vocabulary on a chart for inexperienced writers to use. Try the same with verbs as well.
Instructions:
Collect as many scraps as possible and keep in a community basket to be used frequently.
Before the children begin their pictures, if you want the children to have more knowledge about the topic, have them read books about the subject as well.
The children can use the visual to inspire their descriptive or informative writing. Encourage them to focus on the texture, size, shape and colors of scraps. Allow for more creativity, and glue the picture onto colored paper for embellishment.  Remind them not to be afraid of overlapping the scraps. Other art mediums are optional.
Students are encouraged to use their 'visual' to help them generate ideas to write about. You can use a graphic organizer to help organize their thoughts first. This will easily help them transfer those words and phrases into their writing. (see worksheets provided)
Edit the writing and creatively publish for display (optional).
Read orally when done!
This activity can easily guide other writing mini lessons. use of verbs and adjectives, nouns, elaborative sentences, main idea, topic sentences, setting, or plot. (optional)
A Deeper Look:
The colorful collage is made up of various used (painted) scraps. The kids were encouraged to look at the shapes and colors on the scrap paper, cut and glue into a new picture.  It happens that the children were studying fish. They used their prior knowledge and inspiration to complete the poem.
Moreover, visual imagery was transferred to visual memory. Now the classmates can visualize winter cardinals with imagination and more.
Evaluation
In order for incidental learning to occur, move throughout the room to confer and assess where needed. Depending on the skill you are reinforcing, this activity lends itself, but not limited to, easily assessing descriptive sentences, story elements, setting, plot, writing to inform, expository, narrative and poetic writing. Be sure to inform your students about your expectations. Perhaps you can orally assess a particular skill by asking the children to identify parts of a sentence, the main topic or main idea. Their written application will already be completed. Another way to organize your anecdotal notes can be to create a skill chart and check off the skills that have been mastered or need more improvement. See other ways to use this lesson.
Other Ways to Use This Lesson
Imagery has been found to be the single most effective curriculum intervention strategy. Remember to allow the opportunity for your learners to write with visual imagery.  Let them see the picture before they write. Train them early to 'visualize' and use the details in their writing weekly.
Wall Hangings:
You can add drama and excitement to 'class teamwork' with the use of scrap paper collage wall hangings. Provide the class with a larger visual by attaching large white paper to an open wall. Allow the whole class be a part of the primary visual to be created. Once the decision is made, have teams of 2-3  add scrap paper elements to the large piece of white paper. Use their visual as a bulletin board and embellish it with other art mediums if desired. This wall hanging can enhance an already existing subject long-term or short-term as well. Use this visual to inspire your whole-class writing or even use as a mini-lesson and during workshop time too. Encourage the teams to write together too.
Placemats:
Additionally, kids can create their own placemat version and write about their picture. Another idea would be to switch the visuals and compare their stories as well. This is a good time to laminate if you can. Just creatively overlay the writing on top of the visuals and allow each child to have their own individual placemats. Note: Placemats are not as big and are quicker and easier to complete.
This lesson can focus on various skills. When you are introducing the purpose of writing with scraps, allow the children to draw on previous knowledge (i.e. a story about their topic of choice), as well as be inspired by the pictures. Try this activity every week, using your community scrap box collection.
Scrap Paper:
You can utilize your community box of scraps in various mini-lessons too. If you choose to allow your students to create collages, they can add their picture to their personal writing journals or create a progressive class book with corresponding inspirational or informative writing. This activity can give you an on-going progress assessment as well.
Note: You can let the children make their own paper by painting lines and shapes with various colors. Let it dry and use as the base of your collage shapes. Randomly cut into different shapes and sizes. Always save the scraps and use again. If time is a challenge, use pre-decorative paper instead!
How about letting the children highlight adjectives and verbs in different colors, identifying its proper use when their writing is complete? Perhaps the children can use these pictures as sceneries to inspire their writing about settings or focus on main topics, as well as topic sentences. For instance, the children can create a scene and then overlay a character cut out of scraps and now the writing can be focused on character development and setting.
Collages can be great for inspiring riddles too. Use a picture to generate ideas and descriptions about the scene without giving all the information away. End the paragraph with a question and see if other kids can answer the riddle. You will be amazed at the various responses and ideas they will write about the same or different visuals.
---
About the Author:
Kim Waltmire is a state and national award-winning educator. She holds an honorary seat with the 2006 USA Today All-Star Teacher team. Kim is a graduate from CCSU with a Masters in Early Childhood Education. She published a writing & literacy book; Picturesque Writing, now self-published as The Art of Visual Writing for elementary teachers K-5. Kim also published a Read-Along Series for primary grades, coupled with spelling, grammar, science and social studies lessons for k-12 with a home-school company. Her writing and Project Based Learning strategies were recognized and published in the Creative Classroom Teacher's magazine; May/June 1998 issue. She was recognized for her educational contributions and Project Based Learning by Oprah Winfrey, interviewed on CNN, Fox News, and honored by the CT State Governor several times. Kim has taught elementary school for 28 years and presently an Educational Literacy Consultant. Kim's passion is teaching writing literacy for all learning styles.