Help your residents celebrate National Skilled Nursing Care Week during May 12th-18th (formerly known as National Nursing Home Week) by scheduling a week's work of fun activities for your residents that relate to this year's theme: Live Soulfully. Think about what types of activities do your residents and staff like to do, and what makes them happy.
Add to the fun of the observance by calling it a Soulful Seniors event and taking photos of residents enjoying their activities.
Here are a few ideas on how to celebrate from the official National Skilled Nursing Care Week Planning Guide.
Food Tasting
Organize a fun Food Tasting for your residents where you and your staff can easily make the food, like setting up a Fondue Fountain or even a Donut and Coffee Station in your Activity Room.
Cooking Night
Host a Cooking Class for your residents one evening where you can teach them how to make a unique dish, like showing them how to make dessert crepes that can be topped with whipped cream and fruit.
Gardening Activities
Recruit your residents for some Backyard Gardening to help get your garden planters filled for the summer by setting up several tabletop gardeners on your back patio tables. Simply fill the plastic containers with gardening soil for your residents to use to fill your planters.
Book Fair
Host a fun Book Fair in your facility to sell slightly used books to raise money for a local charity. Beforehand, ask residents, staff members, and family members to donate books for the activity.
Acts of Kindness
Invite residents to display Acts of Kindness by completing a craft that can be given to others. For instance, use markers to decorate animal hand puppets that can be donated to a local children's hospital.
Pet Day
Take residents on a trip to a local pet store or animal shelter for a fun Pet Day to visit and see the dogs and cats. If you would rather organize a petting activity for your residents, instead provide them with a faux dog or faux cat that they can touch and pet.
Music & Memory
Schedule a Music & Memory activity for your residents as you get them moving while singing to their favorite songs. Simply play a fun sing-along DVD that residents can enjoy as you lead them in exercises.
Art Class
Organize an Art Class to show residents how to make sand art mandalas using a sand art kit. Just sprinkle the colorful sand onto the sticky side of the mandalas to create the artwork.
Spa Day
Create a Spa Day in your Activity Room by using an aromatherapy diffuser to inject pleasing aromas into the air for residents to enjoy. Use a variety of essential oils for the diffuser.
About Not Just Bingo: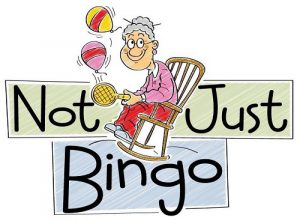 Not Just Bingo is an online resource of fun, senior activity ideas for activity professionals of nursing homes and assisted living facilities. They have been providing fun activity ideas online since 2009, and continue to assist activity professionals across the country by creating meaningful and engaging activity ideas for their residents that go "beyond bingo." Not Just Bingo feels privileged to help activity directors better the living experiences of their residents while demonstrating that a senior's quality of life can actually improve when they move to a nursing facility!
Want even more ideas each month? Visit www.notjustbingo.com for how-to activity ideas, monthly newsletters, and daily holiday ideas. You can also sign up for the Notjustbingo Membership to receive specialized activity ideas to keep your residents and staff engaged, active, and having fun!