Celebrate National Skilled Nursing Care Week, formerly known as National Nursing Home Week, with your residents during the weeklong event from May 13th-19th. Choose activities that fit the 2018 theme "Celebrating Life's Stories" by featuring activities that help residents document, share, and create stories.
Documenting Stories
Invite residents to help document their life stories to share with their family members. As an activity, encourage residents to make tie-dyed journals for them to begin recording their stories that can be given to their children and grandchildren. For a less messy option, provide residents with kraft journals that they can decorate using crayons or markers.
Sharing Stories
Get residents used to sharing their stories by participating in a fun game of Toss and Talk, in which residents toss around a ball that has questions that help residents reminisce. If your residents would rather reminisce without the exercise of tossing a ball back and forth, then use a set of Table Topics cards to get the conversation flowing.
Another option for breaking the ice with residents is to provide visual aids, like passing around nostalgic postcards to help residents remember the days of yesteryear.
A final way to get residents sharing their stories is through a story circle, in which residents sit in a large circle and answer questions about a particular topic. For instance, for each day of National Nursing Home Week, provide a different topic for residents to discuss during the story circle, like World War II, childhood toys of the 1930s, penny candy, popular hairstyles of the 1940s, or even popular first names of their generation.
Creating Stories
Assist residents with creating stories that they can pass along to their grandchildren. For example, as a fun activity, invite residents to make storybooks about their lives by tearing out coloring pages from coloring books or downloading them from the Internet. Assist residents with thinking of a theme for their book, and then collect up to ten coloring pages that fit the theme. Then help residents write captions on each of the pages before binding the pages together and passing it along to a grandchild as a gift.
About Not Just Bingo: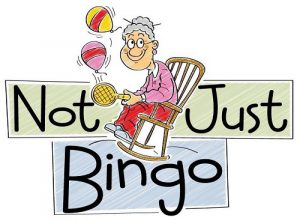 Not Just Bingo is an online resource of fun, senior activity ideas for activity professionals of nursing homes and assisted living facilities. They have been providing fun activity ideas online since 2009, and continue to assist activity professionals across the country by creating meaningful and engaging activity ideas for their residents that go "beyond bingo." Not Just Bingo feels privileged to help activity directors better the living experiences of their residents while demonstrating that a senior's quality of life can actually improve when they move to a nursing facility!
Want even more ideas each month? Visit www.notjustbingo.com for how-to activity ideas, monthly newsletters, and daily holiday ideas. You can also sign up for the Notjustbingo Membership to receive specialized activity ideas to keep your residents and staff engaged, active, and having fun!