Celebrate this year's National Assisted Living Week (September 11-17) and its 2022 theme – Joyful Moments – by providing fun activities that bring joy to your senior residents. During the week, consider focusing on the hobbies that your residents enjoy, like cooking, sewing, playing cards, building, and painting. Then create fun activities or games that relate to each hobby, and schedule them throughout the week.
Cooking
If your residents enjoy cooking, then schedule several fun cooking-related activities and games.
Donut- Decorating Contest – Make mini donuts and provide residents with royal icing in different colors and sprinkles to see who can make the prettiest donut.
Popcorn Feeders – Assist residents with popping popcorn to string onto craft wire to hang outdoors to feed your neighborhood birds.
Ice Cream Ball Toss – Encourage residents to get their exercise while making a batch of ice cream by tossing an ice cream maker ball back and forth. Once the ball-tossing game is over, set out syrups and toppings for residents to enjoy with their ice cream.
Sewing
Host several sewing-related activities throughout the week that spark memories while also helping residents improve their hand-eye coordination.
Sewing Box – Help residents reminisce about their sewing days by using a sewing box, in which residents can identify the sewing tools that they have used in the past. Throughout the activity, be sure to encourage residents to describe their past sewing projects while also explaining how they became interested in the hobby.
Sock Owls – Show residents how to sew sock owls that can be given as gifts to grandchildren or donated to a local children's hospital.
Lacing Contest – Pass out vintage garden lacing cards to residents for a fun lacing contest to see which resident can lace their card first.
Playing Cards
Organize several fun card activities for residents that reward learning and competition.
Uno Tournament – Invite residents to play the fun card game Uno. For the activity, set up tables of four in your Activity Room, and have the four residents at each table play against one another. Then have all the winners from each of the tables play against one another in groups of four. Keep having the winners play one another until there is only one winner left – your facility's Uno champion.
Shuffling Class – Gather a deck of playing cards to teach residents a few shuffling tricks.
Pokeno Party – Use Pokeno playing cards and bingo chips to play a fun game of Pokeno with residents.
Building
Tap into your residents' joy of building new things by organizing several games and activities that allow residents to create and build.
Race Car Models – Supply residents with wooden cars to assemble and paint to see who can create the best race car.
Team Jenga – Set up several Jenga games on your Activity Room tables for pairs of residents to play one another to see who is best at balancing the wooden blocks.
Marshmallow Towers – Pass out mini marshmallows and toothpicks to see who can build the tallest marshmallow tower in five minutes.
Painting
Invite residents to have fun as they express their creativity through painting.
Watercolor Pictionary – Pass out watercolor paints and watercolor paper for residents to play a fun game of Watercolor Pictionary. To play, simply pick an object and give residents one minute to use watercolors to paint the object. After a minute, award a point to all the residents whose picture closely resembles the object.
Paint Pins – Recruit residents to help you make paint pins that can be given as gifts to loved ones or sold during an upcoming Crafts Sale, where you can raise money for your activity supplies.
Painting Boxes – Encourage residents to paint wooden boxes that can be used as trinket boxes and given as gifts.
Find more ideas from Notjustbingo on the S&S blog here.
---
About Not Just Bingo: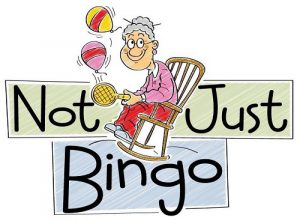 Not Just Bingo is an online resource of fun, senior activity ideas for activity professionals of nursing homes and assisted living facilities. They have been providing fun activity ideas online since 2009, and continue to assist activity professionals across the country by creating meaningful and engaging activity ideas for their residents that go "beyond bingo." Not Just Bingo feels privileged to help activity directors better the living experiences of their residents while demonstrating that a senior's quality of life can actually improve when they move to a nursing facility!
Want even more ideas each month? Visit www.notjustbingo.com for how-to activity ideas, monthly newsletters, and daily holiday ideas. You can also sign up for the Notjustbingo Membership to receive specialized activity ideas to keep your residents and staff engaged, active, and having fun!