If it is still cold and winter weather in your state and you are keeping your residents safe and socially distant in your facility, try these five fun winter activities from notjustbingo.com.
1. Loud Speaker Bingo
Play bingo with your residents while keeping them safe by announcing the bingo numbers over your loud speaker for residents to play in their rooms. For the activity, use bingo calling cards to announce the bingo numbers that residents can find on their own bingo cards that they can keep in their rooms during this pandemic.
2. Hallway Concert
Play your residents' favorite music in the hallway that they can listen to and enjoy. As an alternative, invite residents to join in as you play a sing-a-long CD, in which residents can sit in their doorways and sing along with their neighbors in the hallway.
3. Writing Letters
Invite residents to write letters to their loved ones. But first, encourage them to paint their own greeting cards by simply brushing water onto the cards to reveal the colorful design. Once the water dries, encourage residents to write a special note inside.
4. Armchair Travel
If your facility is able to broadcast a DVD on your facility's television system so that each resident can view the broadcast on their own televisions, then add in a few armchair travel DVDs to help residents "travel" without leaving their rooms.
5. Virtual Discussions
Teach residents how to join in a fun Zoom call using their phones or tablets. For the call, create a meeting in Zoom and invite your residents to join you so that you can safely host a fun interactive meeting, like a discussion, a trivia game, or even a You Be the Judge activity.
Find more ideas from Notjustbingo on the S&S blog here.
---
About Not Just Bingo: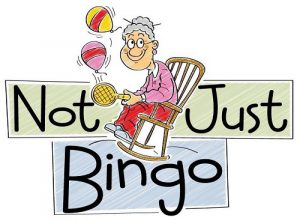 Not Just Bingo is an online resource of fun, senior activity ideas for activity professionals of nursing homes and assisted living facilities. They have been providing fun activity ideas online since 2009, and continue to assist activity professionals across the country by creating meaningful and engaging activity ideas for their residents that go "beyond bingo." Not Just Bingo feels privileged to help activity directors better the living experiences of their residents while demonstrating that a senior's quality of life can actually improve when they move to a nursing facility!
Want even more ideas each month? Visit www.notjustbingo.com for how-to activity ideas, monthly newsletters, and daily holiday ideas. You can also sign up for the Notjustbingo Membership to receive specialized activity ideas to keep your residents and staff engaged, active, and having fun!