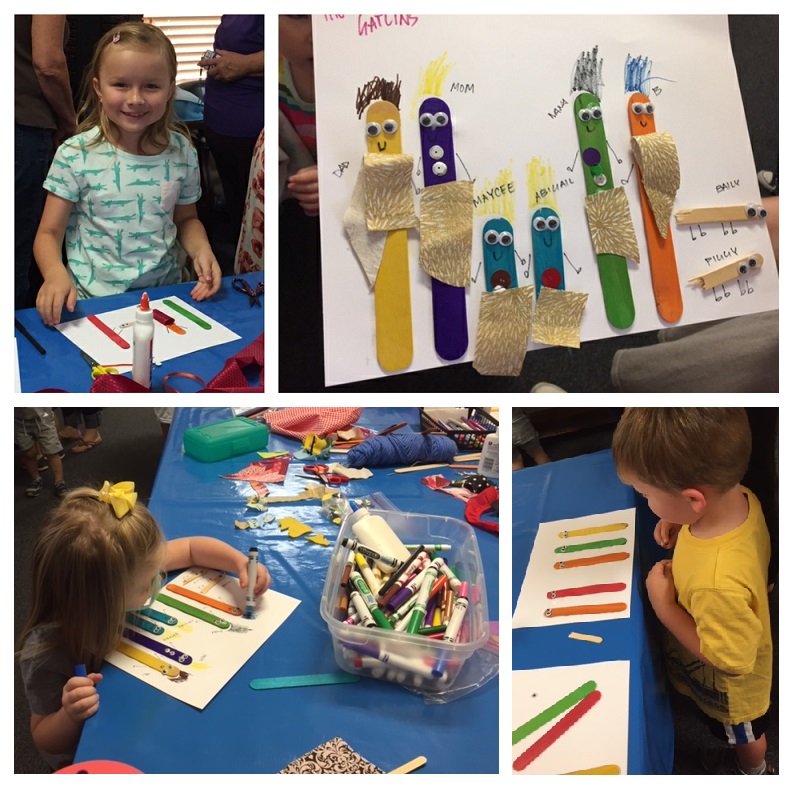 Here's a super fun popsicle stick craft for preschoolers (or any age for that matter) that I recently used for a "Families are Fun!" Storytime at Dripping Springs Community Library. I volunteer every other week to lead the Preschool storytime. Coming up with fun crafts to go along with the theme is always fun. There are many variations of this craft. You can even use the finished products as puppets, which is a fun idea. After a great storytime with books and songs about families and a silly puppet, we explained the idea for the craft to the moms and kids.
Materials:
How to Make Craft Stick Families
All of the supplies for this craft project were laid out on a large table in our conference room at the library. We found it best to have the kids stand, as it allowed them to have more room to create and have access to the supplies.
We told them they were going to make the craft sticks into their own family, including pets if they wished. The jumbo crafts sticks were used for the people, and the pets were created using smaller craft sticks cut in pieces and decorated like their pets. All of our preschoolers who come to storytime have a parent or caregiver that attends, and generally they assist their own child with crafts as needed.
It was rewarding to see the parents and children creating the members of their families and discussing their features or ways to make them look silly. Parents seemed to have as much fun as the children!
This craft was a huge success and turned out so much better than I'd even expected. The opportunity for exercising a child's creativity for this craft is really off the charts, and it is also a great activity for hand-eye coordination for preschoolers. Adults helped brainstorm clothing and decorating ideas with their younger kids, and many of them assisted with the cutting of fabric scraps for clothes.
Family Storytime Resources
Books:
What! Cried Granny: An Almost Bedtime Story by Kate Lum
The Family Book by Todd Parr
15 Things Not to do With a Baby by Margaret McAllister
Families, Families, Families! by Suzanne Lang and Max Lang
Pepper and Poe by Fran Preston-Gannon
My Dog is as Smelly as Dirty Socks by Hanoch Piven
It's Too Noisy by Joanna Cole
Fun Songs:
Dancin' in the Kitchen by Cathy Fink and Nancy Marxer
Grandma Slid Down the Mountain by Cathy Fink and friends (fun way to teach yodeling)
Fingerplays:
"My Family"
This is mama, kind and dear. (point to thumb)
This is papa, standing near. (point to pointer finger)
This is brother, see how tall! (point to middle finger)
This is sister, not so tall. (point to ring finger)
This is baby, sweet and small. (point to pinky finger)
This is the family, one and all! (wiggle all fingers)
"Family Members" (Tune: Mary Had a Little Lamb)
If you have a brother
A brother, a brother
If you have a brother
Please stand up!
Then repeat the song with different family members and pets.
About the Author:
Lisa Baker is a retired 5th/6th grade teacher. She is also the mother of two grown sons and a sweet Morkie puppy, currently residing in Dripping Springs, TX, which is 30 minutes west of Austin. She started her own business as a children's entertainer and storyteller, and entertained in local bookstores, churches, schools, events, and birthday parties for many years. Lisa currently volunteers in her local library for story times several times a month, as well as teach preschool at her church, Austin Ridge-Dripping Springs.