Looking to celebrate diversity in your senior living facility? Indigenous Peoples' Day on October 12th is a holiday that celebrates and honors the Native Americans and commemorates their shared history and culture. Schedule a fun morning of craft activities for your residents and their grandchildren to work on. Here are 5 fun craft kits to use for your Indigenous Peoples' Day celebration:
Teepees
Have residents assist the kids with assembling teepees using the kit's wooden dowels, jute, and glue. After the structures have been built, encourage participants to be creative in decorating the Kraft paper using the crayons, oil pastels, and glass beads that are provided in the kit. Afterwards, find a place in your facility to display the finished teepees for the day.
Dreamcatchers
Show residents and the grandchildren how to weave dreamcatchers using yarn that comes with the kit. Simply cut the yarn to size, as described in the kit's instructions, to weave in and out of the dreamcatcher circles. Finally, show residents how to create the hanging feathers before attaching.
Before the activity, download information about the meaning of each part of the dreamcatcher to share with residents during the craft. For instance, the hanging feathers are believed to act as a soft ladder that allows the dream to glide down the dreamcatcher and into the dreamer's mind.
Sand Paintings
Pass out pre printed designs and colored sand for residents and their grandchildren to complete sand paintings. If possible, download a few photos of real Native American sand paintings so that the participants can see a finished product. Then instruct them on how to use a pencil to mark their designs so that they know what colors to use. Next, pass out cotton swabs for the crafters to apply glue in small sections on the designs before sprinkling on the sand. Be sure to have a few toothpicks handy for residents and their grandchildren to use to help guide the sand to the desired areas.
Totem Poles
Educate your residents and their grandchildren about Native American culture by providing foam totem poles for them to decorate with paint. Since totem poles carry different meanings for different tribes, share a broad history of the use of totem poles and how they varied artistically and stylistically among the tribes.
Tribal Masks
Use the tribal mask kit to have residents and kids assemble native masks that were popular among Native Americans and African tribes. Use the kit's markers, raffia, feathers, and suede leather pieces to create unique masks that can be hung in your Activity Room. As inspiration for the activity, use your phone or tablet to pull up a video of an authentic native dance where the dancers are wearing masks.
Find more ideas from Notjustbingo on the S&S blog here.
---
About Not Just Bingo: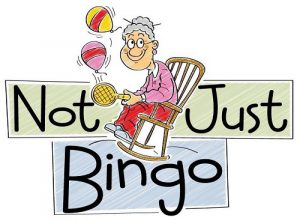 Not Just Bingo is an online resource of fun, senior activity ideas for activity professionals of nursing homes and assisted living facilities. They have been providing fun activity ideas online since 2009, and continue to assist activity professionals across the country by creating meaningful and engaging activity ideas for their residents that go "beyond bingo." Not Just Bingo feels privileged to help activity directors better the living experiences of their residents while demonstrating that a senior's quality of life can actually improve when they move to a nursing facility!
Want even more ideas each month? Sign up for the Not Just Bingo Membership to receive specialized activity ideas to keep your residents and staff engaged, active, and having fun!