Have fun with your residents this summer by hosting a fun "cruise" for your residents in your facility. Here are six easy steps that will help you get your residents enjoying their summer cruise.
Step #1: Pick a Destination.
Pick a fun location or locations that will be easy to create fun activities around. For instance, pick Italy and host a bocce ball contest on the "Lido Deck" after eating a Spaghetti and Meatball lunch. Or pick Brazil and host a soccer ball kicking game in the backyard after hosting a Portuguese language class.
Step #2: Decorate Your Facility.
Use crepe paper and balloons to decorate your facility for the cruise. In addition, put up cruise scenery decor on the walls in your Dining Room for the cruise.
Step #3: Schedule Crafts.
Set up several crafts that relate to your cruise destination. For example, show residents how to use scratch art to create Greek pottery during your cruise to the Greek islands. Or for a trip to Mexico, show residents how to make Mexican bark paintings.
In addition, generic cruise crafts can be used with residents. For instance, assist residents with decorating wooden sailboats, paddle wheel boats, or even balloon-power boats that can be demonstrated in a kiddie pool in the backyard.
Step #4: Coordinate Fun Meals and Music.
Coordinate with your facility's Dining Services to provide meals and snacks that relate to your destination, like egg rolls for an afternoon social during your cruise to the Orient, or a salmon dinner for your Canadian cruise.
In addition, hire a mobile entertainer or play music in the Dining Room for residents to listen to while enjoying their meal.
Step #5: Host Games and Contests.
Schedule a few floor games, like shuffleboard and Tic Tac Toe.
Also, don't forget to host a few contests that are popular on cruises, like a Sexy Legs Contest for the men or a Newlywed Game for your facility's couples.
Step #6: Set Sail.
Help residents set sail on your fun cruise by supplying them with passports that they can record their travels. In fact, create a fun "Activity" agenda to pass out to residents that includes the fun cruise activities for the day.
Find more ideas from Notjustbingo on the S&S blog here.
---
About Not Just Bingo: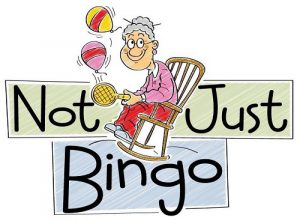 Not Just Bingo is an online resource of fun, senior activity ideas for activity professionals of nursing homes and assisted living facilities. They have been providing fun activity ideas online since 2009, and continue to assist activity professionals across the country by creating meaningful and engaging activity ideas for their residents that go "beyond bingo." Not Just Bingo feels privileged to help activity directors better the living experiences of their residents while demonstrating that a senior's quality of life can actually improve when they move to a nursing facility!
Want even more ideas each month? Visit www.notjustbingo.com for how-to activity ideas, monthly newsletters, and daily holiday ideas. You can also sign up for the Notjustbingo Membership to receive specialized activity ideas to keep your residents and staff engaged, active, and having fun!