Are your looking for some fun new winter craft ideas for your residents this season? Weve shared six fun wintertime craft ideas from Notjustbingo for you to add to your activity program. These activities are easy and require only a few materials!
Plastic Domes
Snow globes are synonymous with winter. Provide residents with snow globes, where they color the paper insert, then fill the globe with water and watch the snow fall around their design. View a tutorial and design ideas for this activity here. As an alternative, show your residents how to make plastic domes that can be used as decoration throughout your facility for the season. For the craft, have residents create their own scene. They can add sparkling snow to the base of the globe, place miniatures inside to display, or a candle and holly for a holiday theme like one of our customers made and used as centerpieces.

Winter Necklaces and Bracelets
Supply residents with blue and white beads and jewelry cording to make winter-themed necklaces and bracelets for the season. Encourage residents to be creative in their design by adding in other types of glass beads to make the winter jewelry unique.
DIY Snowflake Clings
Show residents how to make their own snowflake clings using school glue, glitter glue, or puffy paint, along with snowflake templates you can print out. If you don't have any snowflakes templates on hand, just use a pencil to draw snowflake designs on wax paper for residents to trace with the school glue. Allow the snowflakes to dry overnight or until the glue becomes transparent. Then gently peel the snowflakes from the paper and moisten one side of the snowflakes before applying to your windows. View these awesome ideas on Pinterest
Finger-Knit Scarves
Host a weekly class to teach residents how to finger knit using yarn to make colorful scarves. Once the scarves are complete, donate them to a local homeless shelter.
Mug Art
'Tis the hot cocoa season! Get your crafty residents ready for the winter and lots of hot cocoa by decorating white mugs using colorful permanent markers. Allow the marker to dry. To set the mug designs, bake the mugs on low for 20 minutes and allow them to cool before using.
Snowman Craft
Invite residents to decorate their apartment doors for the season by assembling snowman banners that can easily hang on a door. To make the banners, simply stitch buttons to the felt to create the snowman before stitching a border using the pre-punched holes. Finally, to complete the craft, glue the included felt snowman hat to the banner to dry. .
Find more ideas from Notjustbingo on the S&S blog here.
---
About Not Just Bingo: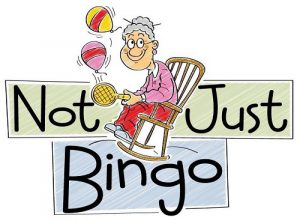 Not Just Bingo is an online resource of fun, senior activity ideas for activity professionals of nursing homes and assisted living facilities. They have been providing fun activity ideas online since 2009, and continue to assist activity professionals across the country by creating meaningful and engaging activity ideas for their residents that go "beyond bingo." Not Just Bingo feels privileged to help activity directors better the living experiences of their residents while demonstrating that a senior's quality of life can actually improve when they move to a nursing facility!
Want even more ideas each month? Sign up for the Notjustbingo Membership to receive specialized activity ideas to keep your residents and staff engaged, active, and having fun!