As you enjoy the warmer weather, plan a fun Field Day in the backyard for your senior residents to help them get up, get out, and get moving. Organize activities throughout the day, where residents can win fun prizes and ribbons. Add to the festive atmosphere by decorating with balloons and passing out cotton candy. Be sure to entice your residents to participate in all the fun by providing games and activities that pique their interests. Here are a few from notjustbingo to get you started:
3-Point Shootout – Recruit residents to show-off their shooting skills in a basketball-shooting contest. Set up an inflatable basketball hoop and have seated residents practice taking shots to determine who can shoot the most baskets.
Air Show – Invite residents to a backyard air show, but first explain that they must help decorate the planes for the show. Set up a crafts table on your back patio for residents to paint and decorate wooden model planes. Once the planes have dried, host a plane-throwing contest to see which resident can glide their plane the farthest.
Beach Volleyball – Blow up a beach ball and invite residents to play a game of beach volleyball in the backyard. Set up your outdoor volleyball net and encourage seated residents to hit the beach ball back and forth over the net. To add even more Field Day fun, use two beach balls to keep participants alert and ready to hit.
Bowling League – Divide residents into teams to compete in a bowling game on the lawn. Provide a large inflatable bowling set for teams to use to compete for the title of "Best Bowlers" in your facility.
Bubble-Making Contest – Invite residents to compete to see who can make the biggest bubbles. Use a bubble-making kit for residents to create bubbles that can measure up to two feet in diameter.
Chair Hockey – Organize a seated hockey game on your back patio by seating residents in a circle and having them kick a foam ball back and forth. For this Field Day game, have alternating participants be teammates, so that no two teammates are sitting side-by-side. Encourage residents to score goals by kicking the ball underneath an opposing team member's chair.
Knock-Down Carnival Game – Organize the classic carnival knock-down can game for residents to play by stacking cans to see who can knock down all the cans with just one throw.
Launch Pad – Recruit a few staff members to assist you with helping residents use a ball launcher to launch balls in the backyard. Set up a target for residents to hit with their balls. In addition, invite your administrators to try out the activity to test out their launching abilities.
Minute-To-Win-It Games – Organize a host of classic Field Day Minute-To-Win-It games for residents to play. For instance, use plastic cups to see which resident can stack the most cups in a minute, or use ping pong balls to see which resident can bounce the most balls into a cup in a minute.
Parachute Jump – Seat residents outdoors in a circle and encourage them to exercise their arms as they raise and lower a large parachute. Add a few balls to the middle of the parachute and show residents how to use their arms to keep the ball moving on the parachute in a circular motion.
Rocket Launch Pad – Encourage residents to get a great leg workout during Field Day as you invite seated residents to launch rockets into the air by stomping their feet. Award a prize to the resident whose rocket shoots the highest.
Swatting Flies – Recruit residents to help you swat flies (balloons) on the backyard patio as you pass out fly swatters.
Tie Dye Party – Invite your creative residents to have fun making tie-dyed t-shirts using tie-dye supplies and white t-shirts. Encourage residents to pick an upcoming day for all of them to wear their newly designed shirts.
Hot As A Pizza  – Ask residents whether they ever made a homemade pizza before, or cooked in an outdoor over. Take them outside (if it is not too hot!) to play a fun game of inflatable pizza toss where they can compete to score the most points tossing the toppings!
Wine and Cheese Party – Lure residents to a fun wine and cheese Field Day party by setting up an inflatable cheese for residents to toss beanbags into. Be sure to fulfill the "wine" part of the activity by passing out nonalcoholic wine for residents to sip as they play the game.
Find more ideas from Notjustbingo on the S&S blog here.
---
About Not Just Bingo: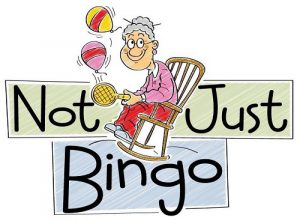 Not Just Bingo is an online resource of fun, senior activity ideas for activity professionals of nursing homes and assisted living facilities. They have been providing fun activity ideas online since 2009, and continue to assist activity professionals across the country by creating meaningful and engaging activity ideas for their residents that go "beyond bingo." Not Just Bingo feels privileged to help activity directors better the living experiences of their residents while demonstrating that a senior's quality of life can actually improve when they move to a nursing facility!
Want even more ideas each month? Visit www.notjustbingo.com for how-to activity ideas, monthly newsletters, and daily holiday ideas. You can also sign up for the Notjustbingo Membership to receive specialized activity ideas to keep your residents and staff engaged, active, and having fun!