Hula Hoops are for more than just hula hooping, and some of the physical activities they are used for call for keeping the hoops attached together. This not only helps with keeping the game going, but is also a great safety precaution because it keeps the hoops better secured together. Our sports product manager created these hoop clips to help with just that.
There are three different clips in our new Hoop Clips Assortment Pack. 
2-way clips (red)
3-way clips (blue)
4-way clips (green)
They are super affordable (only $8.99 before any discounts) and so useful for many games – so we are sharing information about them below AND some of our favorite Hoop Activities that they can be used for. We also have a pack of 24 of just the 2 way clips.
Need the hoops too? We also created this Ultimate No-Knott™ Hoops and Clips Easy Pack which comes with:
No-Knott™ Hoops with 6 hoops each in 24", 30", and 36" sizes (18 total)
12 two-way clips, 4 three-way clips, and 3 four-way clips (19 total)
As you can see, there are many ways to clip the hoops together. Our personal favorite in the office is seeing how many hoops we can connect together and then do a boomerang throw to get them to successfully roll back to us. Our other favorite Hula Hoop activities and games that use these hoop clips are below.
(We also have the 3D printer file if you are interested, but with the cost of filament if you're making more than a few, it's more cost affordable to just purchase them for $7.99 and then using our blog offer code of 20% off)
Hula Hoop Activity Ideas
---
Hoop Hop Showdown – Rock, Paper, Scissors Hula Hoop Activity
This game has become very popular and kids, teachers and activity professionals are loving it because it's simple, fun and gets everyone active. The problem we've heard is "how do we get the hoops to stay together?". The participants are hopping so quickly, hoops can get moved very quickly with one miss-hop. View activity by clicking here.
---
Build and Take Shelter with a Hula Hut
Hula huts are used in obstacle courses often and this Build and Take Shelter game is a great team building activity. With students getting into the hula hut, you can keep the hoops more secure by clipping them together. View activity by clicking here.
---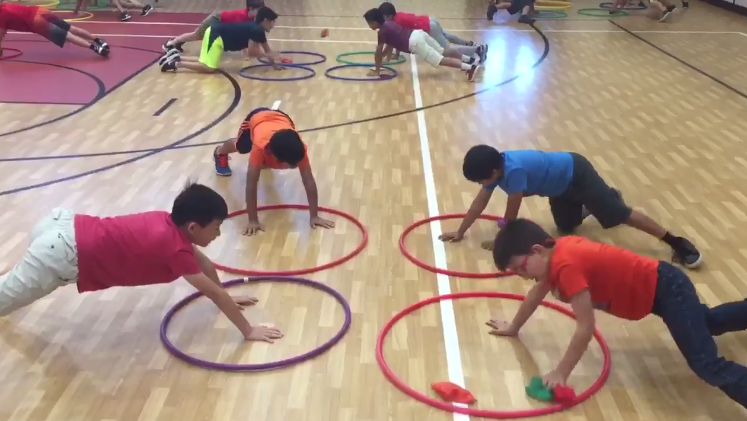 Four square hula hoop is a creative way to challenge students more physically. It uses hoops and bean bags. The hoop clips are a great way to secure the hoops so that students can focus more on their proper movement and building their physical strength. View activity by clicking here.
---
You can purchase the Hoop Clips at S&S. Save 20% for shopping from the blog. Click here or the image below to automatically add the offer code M4683 to your order.