Wood crafts are great for creating personalized projects, and we've shared a few of our favorites. These projects offer success to a wide variety of crafters, regardless of their age or abilities. Select a wood craft item for your group, add a variety of paints, brushes, papers, glue and embellishment supplies and see what everyone creates!
Wood Plaques
These Budget Plaques come in a pack of 12 and have scalloped corners which adds flare! Our samples below were made with acrylic paints and the lettering is done with acrylic paint markers. You can also use liquid paint and a permanent marker.
These Oval Plaques are perfect for so many projects! Our sample below was created by painting the plaque first with a watercolor wash, and then adding puff paint details.
This laser cut wood Anchor Plaque can be customized for all sorts of projects and themes! We used acrylic paints and our multi-surface markers to create the "Hope Is My Anchor" design below.
For a fun photo transfer activity, use our Wood Plaque Assortments. You can transfer any photo you'd like onto these plaques – they make great keepsake gifts. View the step by step tutorial here.
Inspirational Wood Art
Our double-sided wood plaques feature sayings on both sides! These Positive Vibe Plaques have "Choose Happy" on one side and "Good Vibes" on the other. The lettering is lightly laser burned so that you can easily paint or stain the lettering and add your own designs around the edges. Perfect for wood burning, paint, stain or marker. Jute is included for hanging the plaques.
We created the samples below by blending acrylic paints together on the plaques and then using metallic and regular paint markers for the lettering detail. You can also use acrylic paints and a sponge painting technique for the outer border.
Wood Pallets
There are endless ways to decorate these Wood Pallet Signs! Decorate with paint, stain, stamps, lettering, papers and more. Each sign measures 8×8″ and includes holes at the top to hang with jute. The samples below were created with acrylic paints and permanent markers.
You can also get super personal with your designs and give them as gifts! We created the example below by decoupaging patterned paper on each of the horizontal wood pieces. Then we added wood craft letters to spell "Good Times", and used a hot glue gun to add a tiny clothespin to create a special memory board!
Wood Craft Letters
These new laser cut Wooden Letters are perfect for personalizing any project, plus they are large enough to make a project out them! Paint them, stain them or even leave them natural. Wrap them in yarn, decoupage with color tissue paper, or simply paint with acrylic paint. The set of 300 includes 11 pieces each of 26 letters, and 3 additional of A, E each, and 2 extra of I, O, U, Y. The letters are 3" tall.
View all of our wood letter options here.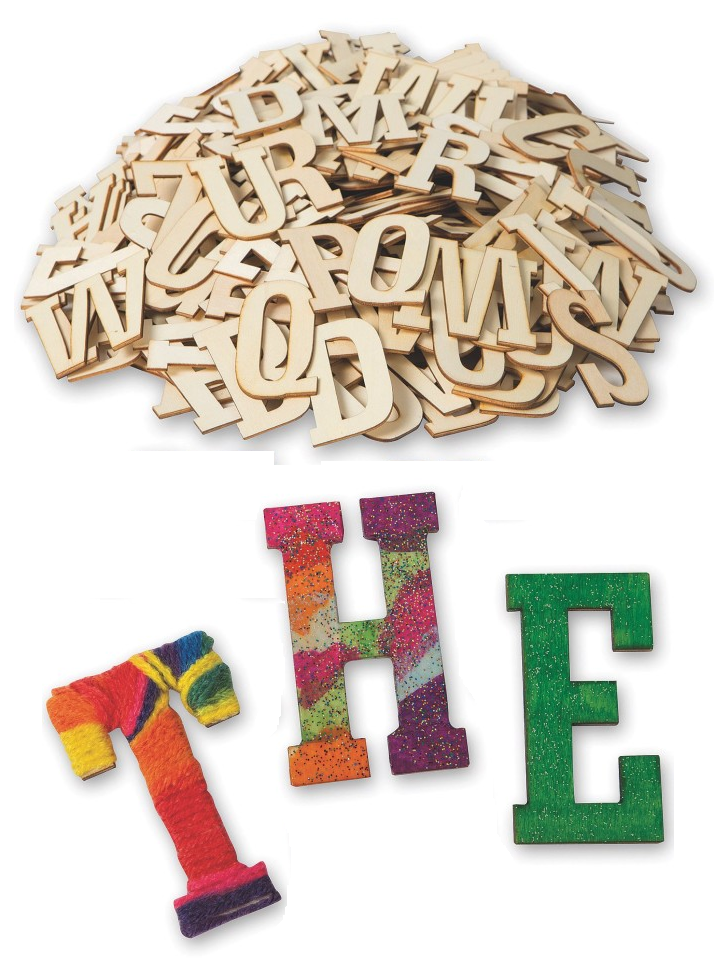 Wood Cubes
Our new 2" solid Wood Cubes are perfect for a variety of craft projects! Paint, stain, decoupage and more. See some of our creations below!
Green cube: Paint your cube with green acrylic paint, then add wood shapes and letters.
Present: This design was made using torn tissue paper placed on the cube like a collage then decoupaged. Then a ribbon added for decoration.
Photo Cube: Paint your cube with acrylic paint. Add some designs with permanent markers. Then glue or decoupage your favorite photos to each side!
You can also use these cubes for holiday decorations and gifts, like this Merry Christmas block display or our popular Photo Memory Puzzle.
Wood Trays
This set of 12 functional Wood Trays with handles can be decorated with paint, stain, decoupage, and more! We painted the one below with green acrylic paint, then painted a pink flower and used permanent markers to create the fine details.
We also created a Cookie Tray for Santa using these wood trays. View the simple instructions here.
As always, we LOVE it when you share your groups projects with us! Share in the comments below.