Need more bingo prizes? Then consider planning craft activities where you can donate a few of the crafts to your bingo prize bin. To ensure that your residents will want the crafts as bingo prizes, be sure to find craft ideas that residents can use for themselves, for storage, or for their apartments.
For Themselves
Have fun with residents as you assist them with crafting accessories and items that your bingo-playing residents would love to win for themselves. For instance, set up decorating crafts where residents can use markers and paint to design sun visors, umbrellas, and even greeting cards.
In addition, put your crafters' skills to the test to assemble and decorate pendant necklaces, change purses, and key chains.
For Storage
Be sure to add in craft activities where residents can assemble handy bags and boxes for your bingo-winning residents to use as storage. For example, provide trinket boxes for your Craft Club to decorate with paint or tile and grout. Additionally, use markers to decorate cosmetic bags and wheelchair bags.
For Their Apartments
Don't forget about your residents' rooms and apartments when thinking about craft ideas. Provide your crafters with several items that can be easily assembled, like flower door wreaths and air freshener kits.
Also, schedule crafts that allow your most artistic residents to showcase their abilities through decoration of flower vases, ceramic mugs, coasters, aprons, and paddle fans.
Find more ideas from Notjustbingo on the S&S blog here.
---
About Not Just Bingo: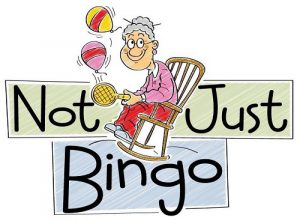 Not Just Bingo is an online resource of fun, senior activity ideas for activity professionals of nursing homes and assisted living facilities. They have been providing fun activity ideas online since 2009, and continue to assist activity professionals across the country by creating meaningful and engaging activity ideas for their residents that go "beyond bingo." Not Just Bingo feels privileged to help activity directors better the living experiences of their residents while demonstrating that a senior's quality of life can actually improve when they move to a nursing facility!
Want even more ideas each month? Visit www.notjustbingo.com for how-to activity ideas, monthly newsletters, and daily holiday ideas. You can also sign up for the Notjustbingo Membership to receive specialized activity ideas to keep your residents and staff engaged, active, and having fun!