In order to prevent bullying in your classrooms and communities, you need to actively get children involved and engaged in anti-bullying activities, games, and crafts. In addition to our 7 Tips to Help You Prevent Bullying, we've listed some products below that can be used collaboratively within your group, class, or school to bring awareness to the harmful effects of bullying and continue the conversation about how to help prevent it.
10 Activities for Bullying Prevention Month
Along the same lines as the quilt, this puzzle can be used as a collaborative group activity. A great message to portray is that although each piece of the puzzle is important, when the puzzle all put together, its message is stronger than any one individual piece. The design below, "Stand Up, Stand Strong, and Stand Together" also encourages the meaning of joining together and the strength of friendship.
These backpacks are a great way to spread the message that your classroom or afterschool program is bully free and promote kindness. Have students design their own backpack, and wear them around the facility during Bullying Prevention Month. Take an individual, class, or even school photo of the students and the messages they have created. Post it on the bulletin board to remind children it's a Bully Free Zone.
These little sneakers are perfect for the theme "Stomp Out Bullying". Have a discussion about bullying, and come up with some other phrases like "Stand Together" or "No Bully Zone" that really have an impact. Each student can use fabric markers to design their own sneaker with an anti-bullying phrase. Pair the kids up and have them introduce their partners, and each student will explain why they chose the message they did. The sneakers can also be traded and clipped to their backpacks.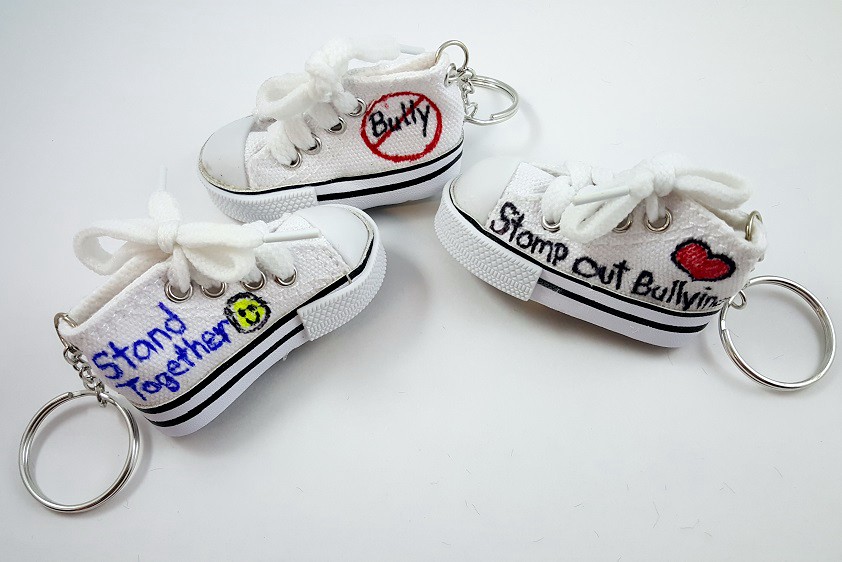 Kites are a great collaborative art project for anti-bullying month. Have students get into groups and design their kite with markers. Encourage them to choose inspiring messages like the ones below. Explain that bullies tend to put others down, and how it's important to lift others up and rise above bullying. Then everyone in the group can work together to raise their kites into the air and fly them with a sense of pride and accomplishment!
Anti-Bullying Pins 
Our Color-Me™ heart pins and round pins are great crafts during Bullying Prevention Month. Students of all ages and abilities can decorate them and wear them in October to raise awareness about bullying, and spread the word that their school is a no bully zone. Pins are very visual and if everyone wears one, it can really have an effect and be a reminder for everyone to be a buddy, not a bully. Each classroom can also hang the pins from a scarf or bandana and display it in the classroom as a bulletin board trim or garland.
A more active bully prevention activity, the Toss and Talk-About ball asks questions to children to get the discussion going about bullying. Why does self-confidence discourage someone who is bullying? What would you do if you saw a group of kids that you thought were bullies walking toward you? This ball is a great way to not make kids feel pressured to answer tough questions, because they are part of a game that everyone is participating in. Soon everyone in the group wants to play and it really gets the conversation going.
Promote awareness through creativity. This quilt comes with 25 squares and assorted cords to piece it all together once individuals have created their anti-bullying square. With paint, markers, embellishments, and even glitter, children will design and build a quilt that reinforces the important message that your group stands for. This can be hung in an area where the children can be reminded of its meaning.
Letter Bead Bracelets & Keychains
Bracelets and keychains will help remind kids throughout the year to be positive role models and spread kindness. Each classroom can collaborate on what anti-bullying message is important to them. Then you can choose which letter beads you need to complete the project. Words like Stand Together and Stand Strong help promote teamwork. Students can then put the finished keychains on their backpacks, and wear the bracelets to help spread the message that bullying is wrong. These also make great fundraising items.
Here are some fun bead assortments to make bracelets and keychains:
For more bead options: www.ssww.com/beads. You can also use any type of cording you'd like.
Get the conversation going with these games that allow some good discussions and questions to take place. This is a great way to encourage social interaction between your group and to engage children in feeling comfortable talking about bullying and other feelings. The games prompt thoughtful discussions on anti-bullying tactics, feelings, attitudes, building positive relationships, and more. Find all of the games here. See the social skills game highlighter below.
As a way to get the conversation started with older children and encourage team work, this game helps them to understand socially challenging situations. Together the students can come to the best solution and work together, communicate, and listen. This is very important especailly now after kids were socially isolated for so long. Social emotional learning (SEL) plays a big role in their development.
Do you have an activity or product that you use to bring awareness to bullying prevention in your program?  We'd love to hear from you in the comments below and be able to share it with our community of educators.
Visit our Bully Prevention page for even more bullying ideas.