The first day of autumn is September 23rd! Celebrate the fall season with your senior residents by adding in one, two, or even more of the following ideas from notjustbingo.com to your senior activity calendar.
Autumn Decorating – Recruit residents on the first day of autumn to help you decorate the hallways, common areas, and Activity Room with decorations like balloons, window clings, and garland.
Taste of Autumn Social – Coordinate with Dining Services to serve a special lunch or even a fun dessert for residents that feature the common fall flavors of cinnamon, apple, and nutmeg.
Crunchy Leaf Walk – On September 23rd, welcome the season by leading residents on a fun walk around your facility to admire the colorful leaves and the changes that autumn brings. They can even bring some leaves back to the facility and explore them with magnification blocks. 
Autumn Centerpieces – Recruit residents to help you decorate your Dining Room tables with fall centerpieces and maple leaves.
Square Dance Hoe-Down – Get residents in the mood for fall by hosting an autumn kick-off party with a fun Square Dance Hoe-Down, in which you teach residents how to square dance.
Harvest Ball – Encourage residents to get dressed for a fun harvest dance in your Activity Room. Make the event special by hiring an entertainer to perform.
Autumn Hats – Plan a hat-making class for residents on the first day of fall. Use your sewing machine to assemble the hats, or teach residents how to make no-sew hats with fall colored construction paper. They can cut out leaves and pumpkins to glue to their hats.
Trip to Farmer's Market – Take residents
on a fun trip to your local farmer's market to take in the autumn colors of this season's popular crops.
Fall Sweater Party – Encourage residents to wear their favorite fall sweaters on the first day of autumn. You can even host an Ugly Fall Sweater Contest.
Fall Wine Picnic – Host a wine tasting out on your facility's back patio as you encourage residents to enjoy a wine and cheese afternoon social. Consider serving non-alcoholic wine as well.
Apple Cider Taste Test – Purchase several different brands of apple cider for your residents to sample and vote on the winning apple cider.
Autumn Garden Party – Invite residents to your facility's garden on the first day of autumn to help you brainstorm what to plant in the garden for the season.
Hayride – Take residents on a fun hayride to enjoy the beautiful scenery and colorful leaves.
Raking Leaves Contest – Host a fun Minute-to-Win-It challenge in your facility's backyard by recruiting residents and staff members to compete to see who can rake the most leaves in one minute.
Fresh Air Walk – Encourage residents to get some fresh autumn air on this first day of the season as you take them on a "nature hike" through your facility's backyard.
For a great selection of autumn decorations, crafts,and supplies, visit www.ssww.com/autumn
About Not Just Bingo: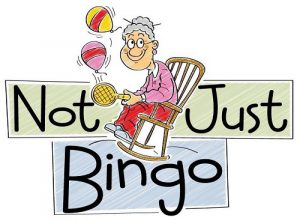 Not Just Bingo is an online resource of fun, senior activity ideas for activity professionals of nursing homes and assisted living facilities. They have been providing fun activity ideas online since 2009, and continue to assist activity professionals across the country by creating meaningful and engaging activity ideas for their residents that go "beyond bingo." Not Just Bingo feels privileged to help activity directors better the living experiences of their residents while demonstrating that a senior's quality of life can actually improve when they move to a nursing facility!
Want even more ideas each month? Sign up for the Notjustbingo Membership to receive specialized activity ideas to keep your residents and staff engaged, active, and having fun!