Game Time Camp is a P.E. games camp for students entering 1st grade through 6th grade. We run each session of camp for a week long, 2 ½ hours a day. In our two weeks this year, we did have approximately 150 individuals registered! We rotate the participants through 4-5 stations throughout the day. Each station runs about 20-30 minutes. We love to culminate most days with a large group game.
This activity, called Castle Ball, is a FAN FAVORITE for all of our K-5 students! It involves throwing and/or rolling skills, as well as defense (to keep the gator skin balls from knocking down the castles).
Equipment: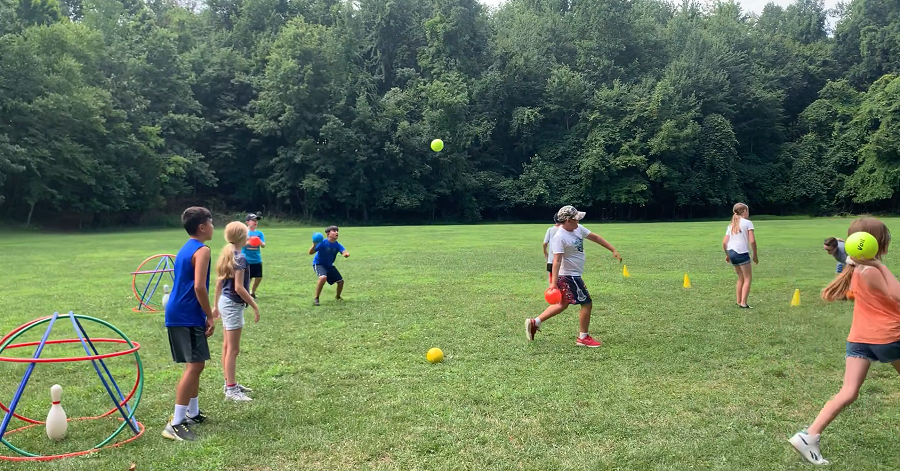 How to Play Castle Ball
The game involves two teams, each team sets up 2-3 castles per side. Each castle consists of 6 hula hoops – one base, four walls and one roof! Gator skin balls are lined up on the mid-line of the playing area and the castles are built towards the back end of each side of the playing area.
Two – three students are permitted to guard each castle, depending on the number of students playing the game. Teams are to decide who will defend and who will throw (offense). This game improves throwing/rolling skills, communication, cooperation, teamwork and sportsmanship.
The game begins as students are lined up several feet away from the gator skin balls and defenders are in front of, to the side of and/or behind each castle. Game begins on signal (music, go, etc).
Castle Ball Video
Variations
You can play winner is the team who knocks down all of the opponents' castles first. Or playing for time, you can play one point for every castle down and teams may re-build castles! An added challenge is to add in a bowling pin inside of each castle and play for points. Pin down first is 2 points. Castle down first is one point, etc.
More About Game Time Camp
We begin our days with one of our YouTube energizers (created during the pandemic) which can be found if you search Kid Fitness Challenge on YouTube! We love to culminate most days with a large group game. On Fridays, we offer ice pops and culminate camp with a water balloon toss!! We are fortunate in Mahwah, NJ to have access to our district facilities. We hold camp at Joyce Kilmer School where we have two gyms, a cafeteria/auditorium and a very large upper grassy field area!
Game Time Camp was created by our K-5 Health & Physical Education Staff: Dena Scudieri, Jason Calhoun, Jason Schmitt, & Adam Szuch. This was our second year running our summer camp and we are looking forward to many more successful years to come!!!!!