Love is in the air at your nursing home and assisted living centers, and what better way to spark fun Valentine's Day memories then to have some fun celebrating them! As usual, our friends at notjustbingo.com have shared with us some fantastic ideas that you will love!
Once you're done choosing from the activities below, head to some of our Valentine's Day Craft Ideas here.
1. Candy Bingo. Play a fun round of Valentine bingo using candy like Hershey's Kisses or sweethearts as the bingo markers. Give out Valentine candy for prizes.
2. Newlywed Game. If your facility is a nursing facility, consider recruiting your married couples to play a fun Newlywed game for entertainment. Ask questions of each of the spouses separately, like "When did you last give your wife flowers?" or "What was the menu of the first meal that your wife cooked for you?" (Be sure to search online for "Newlywed Game Questions" for more ideas.)
3. Name That Love Song. Play music from popular love songs for residents to guess the titles. Here is a Love and Laughter CD.
4. Valentine Charades. Invite participants to act out the titles of romantic songs, like "The Way You Look Tonight," "My Funny Valentine," or "Wind Beneath My Wings."
5. Match Game. Place the name of one member of a popular duo or couple on the back of each participant for them to guess who they are and to find their match. Tell participants that they can only ask "yes" or "no" questions to find out who they are. For a nursing facility, use classic Old Hollywood couples like Paul Newman and Joanne Woodward, Ava Gardner and Frank Sinatra, Lauren Bacall and Humphrey Bogart, and Katharine Hepburn and Spencer Tracy.
6. Valentine Pictionary. Encourage participants to draw words or phrases related to Valentine's Day for their team members to guess, like candlelight dinner, love birds, or love letter.
7. Valentine's Word Games. Search online for printable word games for your participants to work, like a Valentine's Mad Lib for residents to fill in words before reading the Valentine story or poem. In addition, look for Valentine word searches or crossword puzzles that can be used for a fun game to see who can finish their puzzle first.
---
About Not Just Bingo: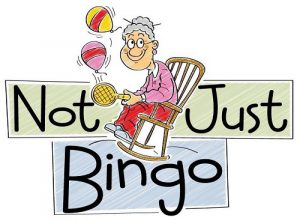 Not Just Bingo is an online resource of fun, senior activity ideas for activity professionals of nursing homes and assisted living facilities. They have been providing fun activity ideas online since 2009, and continue to assist activity professionals across the country by creating meaningful and engaging activity ideas for their residents that go "beyond bingo." Not Just Bingo feels privileged to help activity directors better the living experiences of their residents while demonstrating that a senior's quality of life can actually improve when they move to a nursing facility!
Want even more ideas each month? Visit www.notjustbingo.com for how-to activity ideas, monthly newsletters, and daily holiday ideas. You can also sign up for the Notjustbingo Membership to receive specialized activity ideas to keep your residents and staff engaged, active, and having fun!
What Valentine's Day Party game is your favorite?