Planning a fun luau theme for your residents to celebrate the arrival of the Spring weather and the Summer months? Here are a few items and ideas from notjustbingo that you may want to add to your list.

1. Hawaiian Leis – Provide Hawaiian leis for all your residents to wear for the luau. Pass them out in the morning during breakfast to help them remember throughout the day about the upcoming Hawaiian festivities.
2. Hula Skirts – Pass out hula skirts for the ladies to wear. In fact, set up a "Hula Skirt Shop" in your Activity Room and invite the ladies to stop by before the luau to try-on and wear their hula skirts for the day.
3. Hawaiian Music – Get residents in the beach mood by playing surfing music throughout the day in the common areas of your facility. In contrast, pipe more traditional Hawaiian music through the speakers in your facility's Dining Room for residents to listen to while enjoying a Hawaiian-themed lunch or dinner.

4. Dining Decorations – Transform your Dining Room with fun luau-themed décor, like palm tree table centerpieces, which will instantly convert your Dining Room into a tropical setting. Add a few table skirts to the large serving tables, which can also be used to dress-up any desks or side pieces in your common areas. Fill the Dining Room with other Hawaiian-themed décor like coconut cups, bamboo torches, and inflatable palm-tree coolers.
5. Hawaiian Photo Props – Be sure to take plenty of pictures of your residents during the luau. Start off by placing Hawaiian backdrops throughout your facility with this Luau Easy Decorating Pack so that residents and family members can take their own pictures in front of the tropical scenery. Additionally, set up a photo station at the luau to grab fun photos of residents using an ocean theme backdrop.
6. Luau Crafts – Set up a crafts table to get your crafty residents assisting you with creating fun décor and accessories during the luau. For example, assist residents with making their own flower leis using pre-cut paper flowers. Also, supply residents with shell sand art bottles that they can fill with colored sand. Or use a craft kit that comes with everything you need. Place the finished bottles as decoration throughout your facility.

7. Luau Games – Last but not least, stock up on game supplies to keep your residents busy during the luau. For instance, use inflatable beach balls to host a beach volleyball tournament in the backyard, or set up a limbo game to see how low your staff members and residents can go during a limbo party. After the games, pass out tropical-themed party favors like flip-flop keychains, or even aquatic squirters for the kids.
For even more themed items, visit www.ssww.com/themes/luau. Plus, you can use these items for some Hawaiian themed activities!
---
About Not Just Bingo: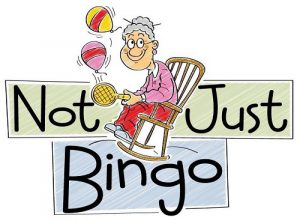 Not Just Bingo is an online resource of fun, senior activity ideas for activity professionals of nursing homes and assisted living facilities. They have been providing fun activity ideas online since 2009, and continue to assist activity professionals across the country by creating meaningful and engaging activity ideas for their residents that go "beyond bingo." Not Just Bingo feels privileged to help activity directors better the living experiences of their residents while demonstrating that a senior's quality of life can actually improve when they move to a nursing facility!
Want even more ideas each month? Visit www.notjustbingo.com for how-to activity ideas, monthly newsletters, and daily holiday ideas. You can also sign up for the Notjustbingo Membership to receive specialized activity ideas to keep your residents and staff engaged, active, and having fun!