With very few observances and holidays in August, try to organize a fun Hawaiian themed celebration for your residents to enjoy on the day that Hawaii became the 50th state (August 21). Here are 13 activity ideas from notjustbingo.com.
1. Afternoon Luau: Coordinate with Dining Services to serve a Hawaiian feast featuring pork and rice. During the feast, round up a few volunteers or staff members to be the entertainment to demonstrate the Hula dance to residents. Call a few residents up "on stage" for the demonstrations!
2. Hula Dance Class: Organize an exercise activity where teach residents the art of the Hula dance. Assist residents with getting a full-body workout while moving their arms, hands, hips, and legs slowly to the music.
3. Blue Hawaii Afternoon Social: Channel your inner Elvis as you host a Blue Hawaii afternoon social featuring Hawaiian songs by Elvis Presley. Whip up a few non-alcoholic Blue Hawaii drinks for residents to sample.
4. Hawaiian Pizza Party: Recruit residents to assemble their own ham and pineapple pizzas using English muffins. They can then hang out in the Activity room and bake the mini pizzas in the toaster ovens.
5. Hawaiian Fashion Show: Encourage residents to model their Hawaiian shirts, flip flops, leis, and grass skirts in a morning fashion show. Ask your facility's administrators to model as well.
6. Hawaiian Crafting: Provide residents with seashells to paint in bright, beachy colors. Scatter the dried shells on your Dining Room tables as centerpieces.
7. Bartender Class: Teach residents how to make non-alcoholic versions of traditional Hawaiian drinks, like Mai Tais and Pina Coladas.
8. Macadamia Nuts & Coffee Happy Hour: Pay tribute to the great state of Hawaii by serving residents a few of their popular agricultural products – macadamia nuts and coffee – during a fun, but highly caffeinated, happy hour.
9. Sexy Legs Contest: Get the men involved in your activities by encouraging them to wear their shorts to enter a sexy legs contest. Award prizes for the hairiest, tannest, and palest legs.
10. Hula Hoop Competition: Use hula hoops to encourage residents to square-off
against one another in a Hula Hoop contest. (Consider using them on a regular basis as a fun exercise alternative to your traditional Exercise Class).
11. Sandcastle Build: Add a Hawaiian-themed sensory activity to the schedule, like making sandcastles. Fill a tray with sand and so residents can mold their own creations.
12. Limbo Contest: Get your facility's staff members involved as you recruit them to join in a limbo contest. Encourage your residents to be the judges.
13. Hawaiian Pictionary: Finally, play a fun game of Hawaiian Pictionary. Divide residents into teams and supply them with a list of Hawaiian-themed words to draw, like ukulele, coconut, and volcano, to get their teammates to correctly identify.
About Not Just Bingo: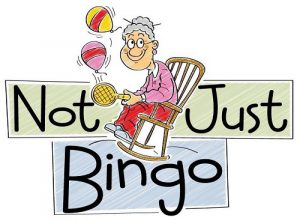 Not Just Bingo is an online resource of fun, senior activity ideas for activity professionals of nursing homes and assisted living facilities. They have been providing fun activity ideas online since 2009, and continue to assist activity professionals across the country by creating meaningful and engaging activity ideas for their residents that go "beyond bingo." Not Just Bingo feels privileged to help activity directors better the living experiences of their residents while demonstrating that a senior's quality of life can actually improve when they move to a nursing facility!
Want even more ideas each month? Visit www.notjustbingo.com for how-to activity ideas, monthly newsletters, and daily holiday ideas. You can also sign up for the Notjustbingo Membership to receive specialized activity ideas to keep your residents and staff engaged, active, and having fun!