The holidays are coming and it's time to decorate! But you don't have to break the bank to add a festive atmosphere to your facility. Here are 7 easy and inexpensive ways from notjustbingo.com to transform any room for the holidays, while getting your residents to help.
1. Balloons 
Have residents blow up Christmas and holiday themed balloons and tie string on them. Then go around to residents' rooms and decorate them. You can even come up with a fun game of balloon toss using hand swatters.
2. Decorating Kits
Use Christmas decorating kits to transform your senior facilty into a holiday that residents will never forget! Add word whirls to hang up from the ceiling and set the scene with some holiday props.
3. Construction Paper
Provide residents with colorful Christmas construction paper or scrapbook paper to make holiday chains that you can easily hang throughout your facility. Use a kit that contains pre-cut links that your residents can easily link together without the use of messy glue sticks. In contrast, you can always make your own holiday links using holiday-colored construction paper, a paper cutter, and glue dots.
4. Garland
Use colorful garland that residents can use to help you spell out holiday words, like Joy or Noel, on your empty walls in your Activity Room. Simply attach the garland to the wall with thumbtacks or tape. In addition, use the garland to outline some of the windows and doors in your facility for added holiday cheer.
5. Pine Cones
Schedule a Pine Cone Hunt for your mobile residents and their grandchildren to help you find pine cones in the backyard that can be painted white for the season. If pine cones are not available, simply purchase an inexpensive bag of pine cones and have residents paint them and decorate them with glitter. Use the finished pine cones as table centerpieces in your facility's Dining Room for the season.
6. Stockings
Invite residents to help you decorate small stockings by writing the first names of your residents on the stockings using puffy paint. Use the finished stockings as door decoration that you can place on each resident's door for the holidays. Then on Christmas Eve, go through the hallways and fill the stockings with peppermint candy canes.
7. Christmas Lights
Use white lights or multi-colored lights to create a tree shape on an empty wall in your facility. Simply tape the lights to the wall in the shape of a triangle for a large Christmas tree. If your strand of lights is long, simply fill in the tree by zig-zagging the lights back and forth from one side of the triangle to the other until the strand ends.
Find more ideas from Notjustbingo on the S&S blog here.
---
About Not Just Bingo: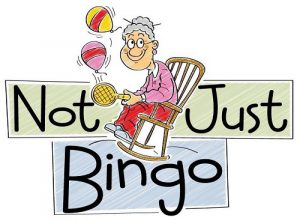 Not Just Bingo is an online resource of fun, senior activity ideas for activity professionals of nursing homes and assisted living facilities. They have been providing fun activity ideas online since 2009, and continue to assist activity professionals across the country by creating meaningful and engaging activity ideas for their residents that go "beyond bingo." Not Just Bingo feels privileged to help activity directors better the living experiences of their residents while demonstrating that a senior's quality of life can actually improve when they move to a nursing facility!
Want even more ideas each month? Sign up for the Not Just Bingo Membership to receive specialized activity ideas to keep your residents and staff engaged, active, and having fun!