The Grandhaven Living Center is located in Lansing, MI. We partner with our residents and their families to provide a lifestyle that meets needs and exceeds expectations. Our specialized Moments Memory Care combines over 20 years of experiences in caring for residents with memory loss. Our Residents enjoy meaningful days. We balance structure and spontaneity with purposeful classes, enriching events, and daily routines. All of our Life Enrichment programs are based on the ideas of community and purpose. Our assortment of activities offer opportunity for all residents to engage. Our programs support physical, social, intellectual, emotional, purposeful, and spiritual needs.
In most senior communities, women residents outnumber the men. It's a fact of life for most Life Enrichment Directors, but planning for men's activities is also a must. These men spent their youth as the family bread winner. Their lives centered on family, work, and when time permitted, hobbies and clubs. Our Men's Club is a great way for our gentlemen to engage with each other in a way that is familiar and purposeful. When looking into activities for men it is best to begin by learning about your resident's interests. Our men at, Grandhaven Living Center, enjoy hunting, fishing, cards, music, and happy hour. We decided to start our men's club to bring the men in our community together and engage them.
For our Men's Club we have done a variety of different activities. Our top 3 activities would be Target Practice, Tool Shed Reminiscing, and Beer with the Boys. Learn more about each activity below.
Target Practice
For Target Practice we use a crossbow and 3D Inflatable Deer Target. We gather the men to one area and place the inflatable deer across the room from them. Each resident then gets a turn shooting at the deer with our NXT Crossbow. Sometimes we play to win and keep track of the score but more often we play for fun. If you want to do this activity with your residents we recommend having the residents sit down next to a table. This way you can use the table to help keep the Crossbow stable for those who need some extra support.
Tool Shed Reminiscing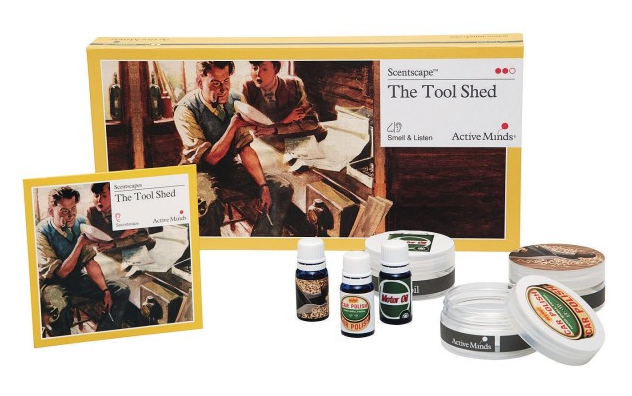 Reminiscing is a great activity to do with all of your residents in Memory Care but especially during Men's Club. Our residents love sharing stories. To set up for our Men's Club Tool Shed Reminiscing we gather our Scentscape "The Tool Shed", the Freestanding Bolt Board, and the Foam Pounding Board. For this activity we play the CD from the Sentscape box as we pass around the different smells. Each resident gets a chance to smell and say with it reminds them of. We then encourage the conversation by asking questions related to the sent. After we are done passing around the scents we ask if the residents can each help with part of a task and bring out the Bolt board and Pounding Board. These familiar tasks give our residents a sense of purpose and tie directly into the "Tool Shed" theme.
Beer with the Boys
Beer with the Boys has become very popular with our men's club. We provide alcoholic and non-alcoholic beverages for our residents depending on their preferences and care plans. Our men love music so the highlight of Beer with the Boys is our Crosley Lancaster Entertainment Center with Bluetooth. This vintage looking record player also plays CDs, Cassettes and the radio. Our men love spending time together listening to their favorite music and having a drink with their friends.
The key to any men's club activity is to find what your residents are interested. We do our best to provide activities that would be similar to what they be doing in their own home.
About the Authors
Olivia Santioni CDD
Monica Kidd LED MC
Charles Timms II LED AL
Olivia Santioni is our Community Development Director at The Grandhaven Living Center. Olivia along with Monica Kidd and Charles Timms II, the Life Enrichment Directors, help our residents enjoy every moment through purposeful, social, emotional, spiritual, intellectual, and physical activities. We believe that living an active and engaged life with opportunities to grow and learn is important at every age. Initially, Olivia worked with the senior population after college as a home health aide. This is where Olivia discovered her passion for bringing purpose to seniors through engaging activities and started her career with Grandhavn Living Center as the Life Enrichment Director. Olivia holds a Bachelor's Degree in Art and Design from Northern Michigan University as well as a certificate in Aromatherapy.