With Hanukkah quickly approaching, it's time to start planning Hanukkah activities for your nursing facilities Jewish residents. Besides your menorah, there are several other supplies you may want to have on hand for your celebration. Here are 6 supplies to help add cheer to your Hanukkah celebration!
Dreidel Game
It's difficult to provide Hanukkah activities without thinking about the dreidel game. So this year, recruit residents to help you create a dreidel game using air-dry clay. Simply have residents paint the wooden pieces and then use the pieces for your daily afternoon dreidel games in your activity room throughout the Hanukkah season. If you have extra pieces, encourage your residents to wrap them as Hanukkah gifts for their grandchildren.
Gelt
Well, it's hard to play the dreidel game without having gelt or chocolate coins. Be sure to have plenty of the coins on hand to distribute as prizes to residents when playing the dreidel game, or as prizes for other games, like Hanukkah poker (using Gelt as the poker chips) or Hanukkah checkers (using Gelt as the game pieces).
Sufganiyot
With the arrival of Hanukkah comes the tasty treat called sufganiyot or jelly donuts. Invite your residents to help you make these jelly donuts using a mini donut maker. Once the donuts have cooked in the maker, supply residents with piping bags of jelly to pipe into each of the donuts.
Blue and White
Make sure to decorate a portion of your facility in the traditional Hanukkah colors of blue and white. Recruit residents to help you drape blue and white streamers from the ceilings in your nursing facility.
Lots of Lights
Remember that Hanukkah is known as the Festival of Lights, so use white stringed lights throughout your facility to create a festive Hanukkah atmosphere. Consider using the lights to create the Star of David on an empty wall, or to border the windows and doors in your Activity Room.
Candles
Finally, be sure to have candles as part of your Hanukkah celebration. However, instead of using real candles, which may be a hazard in your facility, provide residents with a cute glass candle collage to decorate that can then be filled with LED tea lights for illumination.
Find more ideas from Notjustbingo on the S&S blog here.
---
About Not Just Bingo: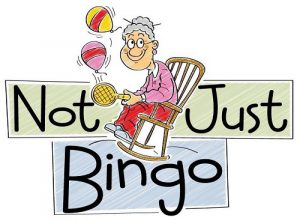 Not Just Bingo is an online resource of fun, senior activity ideas for activity professionals of nursing homes and assisted living facilities. They have been providing fun activity ideas online since 2009, and continue to assist activity professionals across the country by creating meaningful and engaging activity ideas for their residents that go "beyond bingo." Not Just Bingo feels privileged to help activity directors better the living experiences of their residents while demonstrating that a senior's quality of life can actually improve when they move to a nursing facility!
Want even more ideas each month? Sign up for the Not Just Bingo Membership to receive specialized activity ideas to keep your residents and staff engaged, active, and having fun!