With Thanksgiving just around the corner, our friends at notjustbingo.com have given us some inspiration for planning a fun day of festivities for nursing home facility residents, who may not be able to visit with family and friends. To create a fun-filled day, simply create activities that are based upon items typically associated with Thanksgiving: football, parades, and food.
1) On Thanksgiving Day, there are three NFL games for residents to enjoy. Here are a few ideas to get your residents focused on game day:
Host a Football Grid Pool – Create a 10×10 square grid on paper and invite residents to fill in their initials in the squares. Randomly assign numbers 0-9 along the top of the grid and also along the left side of the grid (whereas each number represents the last number of the score for each team). Award prizes at the end of each quarter to whomever has the correct last number of the score for each team. (For example, if at the end of the first quarter of the game, the Philadelphia Eagles have 10 and the Detroit Lions have 3, award a prize to the resident who has his initials in the square that corresponds to 0 for the Eagles and 3 for the Lions.)
Play Football Bingo – Create homemade bingo cards on your computer that contain words typically used by football game announcers, like first down, field goal, and interception. Provide markers to residents to mark each word once they hear it mentioned during the football game. Award a prize to the first person who gets bingo on their card.
Make Football Jerseys – Provide plastic material like these to residents to decorate their own football jerseys using paint and stencils. Cut a hole for the head and use hot glue to connect the sides of the jersey together. Encourage residents to wear their jerseys during the game.
2) Who doesn't remember watching the Macy's Thanksgiving Day Parade on television as a kid? On this special holiday, encourage residents to take in all the sights and sounds:
Watch the Macy's Thanksgiving Day Parade – Set out doughnuts and coffee in your Activity Room and encourage residents to stop in to watch the parade on television.
Make Parade Pennants – Encourage residents to decorate their own pennants that can be glued to wooden dowels for residents to wave during the parade.
Coordinate a Parade in Your Facility – Invite the grandkids to sit alongside Grandma and Grandpa along the parade route in your facility while you host your own Thanksgiving Day parade. Encourage staff members to dress up up thanksgiving hats made out of paper and be a part of the parade, while handing out autumn balloons and candy to spectators. For the parade, create your own parade floats by borrowing a few remote control cars (from the kids of staff members) and tying colorful Mylar balloons (including seasonal and fictional character balloons) to each of the cars. Recruit staff members to assist you with maneuvering the cars (and the attached inflated balloons) down the parade route. Don't forget to end the parade with a large balloon of Santa Claus floating by.
3) It just isn't Thanksgiving without activities focused around food; therefore, incorporate a few ideas and games that will whet the appetite of your residents:
Host a Thanksgiving Pie Bake-Off – Provide participants with aprons, rolling pins, and chef hats to make a variety of holiday pie recipes. Recruit your facility's administrators to be the judges.
Make Napkin Rings – Invite residents to create easy-to-make napkin rings for your special holiday dinner by stringing wooden beads onto autumn-colored pipe cleaners. Wrap the finished, beaded pipe cleaners around your holiday napkins.
String Popcorn – Use plastic needles to string popcorn. Hang the finished popcorn garlands outdoors on trees for the birds.
Play the Thanksgiving Dinner Game – Seat residents in a circle to play a fun memory game. Invite the first person to start off by saying "At Thanksgiving dinner, I will eat turkey." Then invite the next person to add a new food item: "At Thanksgiving dinner, I will eat turkey and mashed potatoes." The goal is for each new participant to remember and repeat the food items already mentioned before adding in a new food. To spark conversation you can even decorate  your own ball and toss it to discuss different topics.
Find more ideas from Notjustbingo on the S&S blog here.
---
About Not Just Bingo: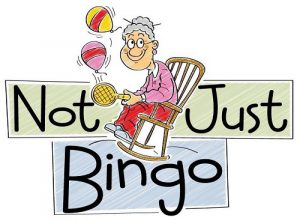 Not Just Bingo is an online resource of fun, senior activity ideas for activity professionals of nursing homes and assisted living facilities. They have been providing fun activity ideas online since 2009, and continue to assist activity professionals across the country by creating meaningful and engaging activity ideas for their residents that go "beyond bingo." Not Just Bingo feels privileged to help activity directors better the living experiences of their residents while demonstrating that a senior's quality of life can actually improve when they move to a nursing facility!
Want even more ideas each month? Visit www.notjustbingo.com for how-to activity ideas, monthly newsletters, and daily holiday ideas. You can also sign up for the Notjustbingo Membership to receive specialized activity ideas to keep your residents and staff engaged, active, and having fun!