Need ideas for volunteer or community service projects this summer for your residents? Here are a few ideas from the staff at notjustbingo.com to help get you started.
To save these ideas and check them off as you go, dowload the free printable Checklist here!
Organize charity auctions that involve your residents, like a bachelor auction or a rocking chair-a-thon
Collect clothes to donate to the local homeless shelter
Set up a bake sale featuring the goodies made by the Baking Club
Host a mentoring sessions for local kids
Knit baby blankets to donate to a local children's hospital
Host a summer reading program to teach kids to read on Saturday mornings
Bake and deliver cookies to local first responders
Start a recycling program at your facility
Plant a backyard garden and donate the harvest
Build birdhouses for your backyard birds
Organize a food drive to collect canned goods to donate to a local food bank
Make care packages for overseas troops
Clip coupons to give to staff members
Teach classes, like baking, sewing, or crochet, to community members
Hold walk-a-thons in your facility to raise money for charity
Do random acts of kindness like recycling a neighbor's newspaper
Make toys to donate to a local homeless shelter
Read to bedridden residents in your facility
Host a coat drive for the local homeless shelter
Crochet scarves to sell to raise money for charity
Create backyard habitats for local wildlife
Start a reading buddies program with a local elementary school class
Let us know what your community service projects you've used at your facility!
About Not Just Bingo: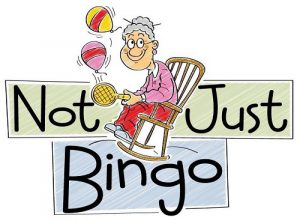 Not Just Bingo is an online resource of fun, senior activity ideas for activity professionals of nursing homes and assisted living facilities. They have been providing fun activity ideas online since 2009, and continue to assist activity professionals across the country by creating meaningful and engaging activity ideas for their residents that go "beyond bingo." Not Just Bingo feels privileged to help activity directors better the living experiences of their residents while demonstrating that a senior's quality of life can actually improve when they move to a nursing facility!
Want even more ideas each month? Visit www.notjustbingo.com for how-to activity ideas, monthly newsletters, and daily holiday ideas. You can also sign up for the Notjustbingo Membership to receive specialized activity ideas to keep your residents and staff engaged, active, and having fun!