Who doesn't love emojis? We love to use them in texts or messages, but they can also be used in the classroom, for games, crafts, brain breaks, and as fun accessories and prizes. Kids can also use emojis to learn how to express themselves and learn what expression represent each emotion. No matter what your teaching style, you can add an emoji theme to your lesson plan or activity! You can even use some of these ideas below for a themed emoji party.
Emoji Craft Ideas
Color Splash!® Emoji Fuse Bead Easy Pack
Everyone loves fuse beads, and we have an emoji themed pack! This pack comes with everything your group needs to easily create fuse bead emoji's – yellow (6000 pieces), black (2000 pieces), red (1000 pieces) and white (1000 pieces) fuse beads – 10,000 total beads! Plus eight clear 5-1/2" pegboards, 16 easy to follow two-sided, laminated emoji bead pattern sheets (with 8 unique emoji designs to choose from) and 4 sheets of ironing paper. Makes 36+ finished projects!
If you have craft time in your classroom or during afterschool time, plan an emoji theme day. Have each student color their favorite emojis on our blank white Color-Me™ Backpacks, which come in a 48 pack so they are perfect for group projects. Kids can use paint or fabric markers to draw their design like the one above, and even add sequins or glitter if they'd like. The drawstring bags can then be used to carry lightweight items for class!
Plan a simple jewelry making craft using these emoji style beads! They are bright yellow plastic and come in a pack of about 144 beads. Expressions include happy, sad, silly, cool, winking, love, and more. Have students choose the emotion they are feeling that day adn create a bracelet or necklace. Then each students can share their emotion and why they chose it. We also have a few other smile bead assorments!
Emoji Games
How fun is this Emoji themed toss game! Score points by tossing beanbags on your favorite Emojis, each with their own number of points assigned (some are + and others are negative points!). This fun and easy-to-play game can be used for all ages, kids and adults! Includes a large 36" x 36" PVC target mat and 3 beanbags.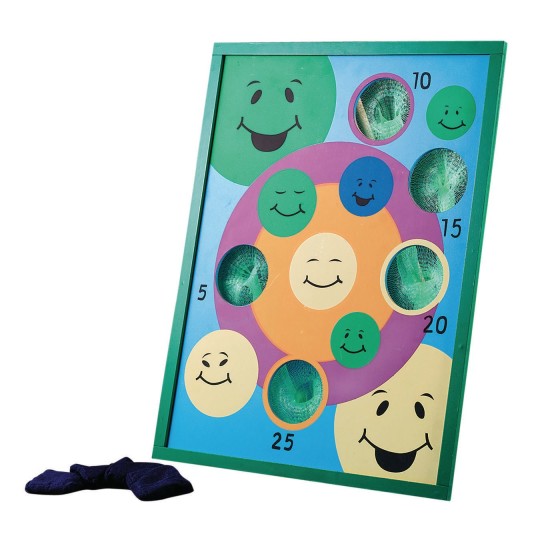 We also have this smile beanbag toss game that has 5 holes with nets and 5 beanbags.
Create your own DIY emoji fun face on a flying disc! Simply color and cut out the fun face sticker shapes, then design a fun "emoji" inspired face, stick to the bright yellow flying disc and watch it soar! Sticker sheets, markers, discs, and instructions included. Flying discs are 9" in diameter.
Play a game in your classroom or afterschool with these emoji balls! These make great brain break activities.
Activity 1:
Have students stand in a circle. Choose an emoji ball to start with (ex. happy). Toss it to one student. They will share something that would make them happy and why. Then that student will toss it to another student and then they also share. After a few students share, take that ball out and toss in another. Do this for each emotion to help kids understand the meaning of each one.
Activity 2:
Place the balls on the floor in your classroom. Have students express how they are currently feeling by each standing next to the emoji ball that best describes their mood. Then start a discussion on what types of behavior in the classroom can cause each emotion.
You can also use smile beach balls for fun games and activities!
Thes bright yellow spot markers have 6 unique emoji faces. Each spot is 5" in diameter that are soft, naturally tacky, and slip resistant. The spot markers are great to use to indicate locations in PE activities or in the classroom, as mini bases for games, or even a way to talk about emotions for SEL.
Test your skills with these smiley face themed paddle balls! Keep the ball bouncing as long as you can against the brightly colored, happy and smiley inspired paddles to be declared the champ! Great for a little friendly competition or to test and strengthen your own abilities, this assortment includes a variety of fun super-smiley designs that will appeal to both young and old. Great for hand-eye coordination and movement therapy. Perfect as a goody bag filler, carnival prizes, classroom rewards, and much more!
With the flick of the wrist this smiley face yo-yo will roll down and back up. Yo-yo's are a fun indoor or outdoor activity to keep anyone entertained. Fun addition to emoji or smiley face-themed party supplies. Great for goodie bags, piñatas, and emoji-themed parties or events. These Mini Emoji Yo-Yo's will surely make fun carnival prize and kids will love the emojis in their classroom reward buckets.
Playing Cards – Coming Soon!
Add some excitement to regular card games with these emoji cards! Teach kids some fun games afterschool, and even encourage them to come up with their own game related to the emoji theme.
Emoji Accessories
Representing your favorite expressions, these plush smiley faces make for the perfect party favor giveaway at your next event. With the attached clip, they easily slip on your key chain or use them as a backpack pull. Wherever you go, these emojis are happy to follow. Measures 3" in diameter with 6 assorted designs. We also have these smile lanyards for holding your keys!
Celebrate accomplishments, birthdays, holidays, and more with this smile balloon! It will sure put a smile on their face. Pack of ten 17″ round smile face mylar balloons!
Bounce 'em! Throw 'em! Roll 'em! Get kids to unplug and engage in some fun with these high bounce balls! Inspired by your favorite phone emoji, each ball is brightly colored and "expressive" in detail. Makes a great party favor for any event! Measures 1-1/4" in diameter. 4 assorted designs.
Bounce 'em, roll 'em, throw 'em! Hours of fun and excitement are built into each bouncy ball. Great for goodie bag fillers, classroom reward buckets, piñata fillers, carnival prizes and more! They're also fun at outdoor events like picnics, sporting events and reunions. Four different funny faces in 4 assorted colors (Pink, Red, Green & Yellow).
Poppers are classic kids' toys that make fun prizes and party favors. Invert this emoji popper and watch it jump sky high. These soft 1-1/2" emoji poppers are sure to make a great impression with their beloved expressions! Includes 12 poppers that are great for classroom rewards, school, and church carnival prizes. Combine with all of other great emoji party favors to fill your piñata or place in a goody bag. Kids just can't get enough emoji cuteness!
These 2" vinyl covered foam-filled kick sacks are sure to make a great impression with their beloved expressions! Includes 12 kick sacks that are great for classroom rewards, school, and church carnival prizes. Combine with other great emoji party favors to fill your piñata or place in a goody bag, and have an activity that encourages active play. Kids just can't get enough emoji cuteness!
Emojis for Classroom
Celebrate birthdays in your classroom…emoji style! These festive crowns features a smiling emoji face, so students will love them. Each pack comes with 30 crowns, plus they are adjustable!
Provide students with emoji pencils on the first day of school, or hand them out as prizes or awards for finishing tasks or good behavior. The pack comes with 12 pencils in 4 vibrant colors. They can keep the pencils in our emoji pencil cases!
Search all Emoji and Smiley products here!