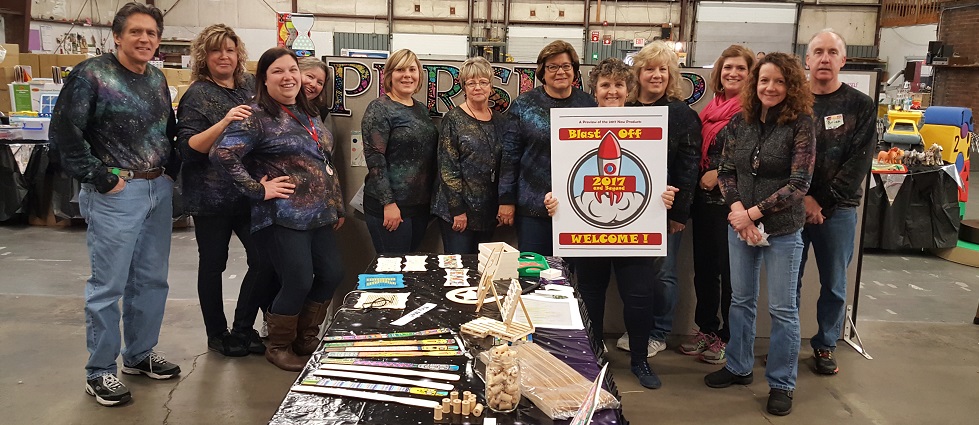 The first week of December the Merchandising Department holds their annual New Product Trade Show for all S&S Worldwide employees to attend. This is a great opportunity for our employees to touch, feel and play with all our new products that we will be selling in the coming year. The Merchandising Team works hard throughout the year to develop and source exciting new products, and this preview excites our team with such unique new items that they then share the enthusiasm with our customers.
The goal of the show was to demonstrate how we are looking towards the future which was represented by our space theme, Blast Off 2017 and Beyond. We tied this together with our space themed décor and the merchandising team's attire, which were Galaxy shirts. (Check out our blog How to Make DIY Galaxy Shirts!)
We asked every employee, as they walked around, to decide what they thought was the best new product for 2017. Many found this to be a difficult feat as there were over 35 tables full of unique items from craft supplies and craft kits, games, healthcare products, sports equipment, educational tools, religious products and cleaning supplies. With so many wonderful new items it was difficult to narrow it down to the top 10, but the results are in. Here are the top 10 products as voted on by our employees.
1. Edible Education's Kitchen a la Cart™
It was hard not to notice the large beautiful kitchen set up in the corner of the trade show, or miss the aroma of baking apples. This is the first, interactive mobile culinary cart that can turn just about any space into a dream space for hands on cooking lessons. Includes running hot and cold water, induction burner, large counter sized convection oven, and all the tools necessary for hands on cooking fun! This mobile kitchen can also be used with our new healthy cooking curriculum.
2. Makey Makey™ Invention Kit
Have you ever played the piano or bongo drums on a banana? That is exactly what employees had the opportunity to try out at the show, so it is no surprise that the Makey Makey Invention Kit was a huge hit! This simple circuit board lets you reprogram the world by connecting everyday objects to your computer.
3. Think & Learn Code-A-Pillar™
This Code-A-Pillar was making its rounds at the trade show, as employees watched with excitement to see if it would travel the route they planned. Code-A-Pillar has a motorized head and 8 easy to connect segments which send it on its path. Every time someone changed and rearranged its segments, Code-a-pillar™ took a different path with cool sounds and lights wherever it went!
4. Electric Jellyfish Mood Lamp
From across the room, these realistic jellyfish caught the attention of many employees. Whether you are looking to add some soothing ambience to a room or for some fun party lighting, the five different lighting effects provide multiple ways to enjoy.
5. Adjustable Hammock Chair Stand
It's not a surprise to find the Adjustable Hammock Chair Stand on the list, because during the course of the show you could always find someone lounging in the hammock. Co-President Hy Shwartz even took a turn, as you see below!
6. Rock and Roll It! Piano and Drum
Musicians and beginners had fun playing with the Rock and Roll It! Piano and Drum. Both are made of silicone and easily roll up to fit in a small pouch. The drum set includes the drum pad, pedals, drum sticks, and a USB power cord. It also takes AAA batteries. It features 10 different sounds – bass drum, snare drum, 3 toms, 2 crashes, ride cymbal, hi-hat, and hi-hat pedal. You can easily adjust the tempo and volume too. Hooks into any external speaker or headphone. The piano is cordless, has it's own speaker, and an on/off switch for easy use.
7. Joy For All™ Plush Cat and Dog 
Throughout the day you could hear employees commenting on how life-like the plush cat was. It responds to petting, hugging and motion as if it was interacting with you, meowing, purring and moving. This cat and the golden puppy can help to bring joy and companionship to the elderly, specifcally those with Alzheimer's or other diseases and illnesses. It is also great for kids with special needs and sensory disorders.
8. Velvet Art 
Velvet Art is always a popular category at our trade show, and this year's creative new coloring projects didn't disappoint. One of the popular designs this year are individually wrapped sets of Artist Trading Card size mini posters to take with you on the road. Twelve sets of thirty different designs are punched and can be hung from the included metal binder rings. They will be available online in January of 2017! Employees also loved the Super Hero Velvet Art Posters. Superhero themes are very popular now, and these posters allow kids to get creative and use their imagination to bring their own hero to life.
9. Color-Me™ Ceramic Bisque Fairy Door
When you first walked into the room, on the front table was an entire little fairy scene highlighting the Ceramic Bisque Fairy Door. Little pebbles lined the path to the door which was leaned against an old stump. Surrounded by greenery and little creatures and sparkle. Many employees found the entire display to be enchanting!
10. Stomp Rockets
Rounding out the top 10 employee picked products was the new stomp rockets. Challenging a colleague to a stomp rocket dual was exhilarating, especially when they hit the ceiling in the warehouse and lit up as they flew through the sky! It was really fun seeing everyone interacting with this product.
With such a wide array of exciting new products, 2017 is sure to blast off!
Submitted by: Kelly LaBarre, Wed Merchandising Manager at S&S Worldwide