Mindfulness and social emotional learning (SEL) are becoming increasingly important, and it is beneficial to start teaching kids at a young age how to manage their stress and emotions in a healthy way.
The goal is to develop the skill of being present in the moment, learning how to be balanced and clear their minds of negative energy. They can also learn to express emotions and get a sense of calm. By choosing fun and educational games, activities, and crafts, you can help create a positive learning environment and instill a sense of independence and self awareness. We have shared several ways to promote mindfulness and SEL in your program below.
Mindfulness means focusing your attention on the present moment and using breathing as a way to bring a sense of calm.  A best practice before starting any of these activities is to get your group in the right state of mind, a calm place. You can start with simple breathing meditation. They can sit comfortable and close their eyes. With normal breathing, count each inhale and exhale silently.
To learn more about mindfulness and self care, view our wellness blog.
DIY Eye Masks
These Color-Me™ eye masks allow kids to create a restful, mindful enviroment by blocking out visual surroundings and focusing on their breathing, calmness and rest. They can color their masks beforehand with fabric markers to bring a sense of self and creativity to the mindfulness exercise.
Toss and Talk
Our Toss 'n Talk-About® Emotion Ball puts the "motion" in "emotion!" This activity is a great way to help your group open up and talk about how they feel, what triggers their emotions, what lifts their spirits or makes them upset. The ball features questions, quotes and positive affirmations like "Describe someone who is thoughtful" and "What makes you grumpy?"
All of our Toss 'N Talk-About® Balls are perfect for one-on one sessions or group activities, and easily adapted for all age and functioning levels. These 24″ inflatable balls include a handy activity sheet with ideas for play.
We also have an relaxation balll coming soon!
Calming Jars
This sensory tube craft kit is great for using as a calming jar. These jars can be used as a visual sensory item to help manage stress and soothe their mind. This celestial themed relaxation jar comes with jars, liquid watercolor, glitter, star beads, and cotton that represents clouds. Kids can shake or spin the jar to watch the items swirl around. The concept is once the glitter settles to the bottom, your emotions will have settled as well.
You can also make your own DIY calm down jar. Fill a mason jar with paint, water, glitter, and other items you want to add.
Stress Balls
It's in the name – these stress balls are great with helping stress! When your child needs to manage their emotions or find a distraction, you can use a tactile sensory item to calm them. We have a wide selection of stress balls and many of them are themed which help your child relate to a common interest. For example, these superhero stress squeeze balls. One of our favorites are these positive messages squeeze balls that include a positive saying. Also for kids who love crafting, these Color-Me™ squishy packs can be decorated and then used as a stress toy!
We also have these feeling stress squeeze heads! The assorted facial expressions can be used to help spark conversation about moods and feelings. Or you can simply use them as an economical and fun fidget to help calm and reduce stress.
Mindful Games
Games are a fun way to introduce the concept of mindfulness, emotions, social awareness and self management. This Emotions Game set turns emotions into ingredients as a creative and fun way to teach the 10 common emotions. Through gameplay and facilitated dialogue, children will begin to recognize and manage their feelings, understand where they come from, and learn how to deal with them. The game comes with a teaching guide as well.
Here is a list of other games to assist in children's development:
Emotions & Feelings
These emotion spots feature faces that are fun, engaging, and show a range of facial expressions to help your group talk about feelings or recognize different moods and emotions in themselves and others. These include happy, sad, surprised, worried, bored, or angry. The spots are filled with colorful water and moving glitter to engage kids, and can be squeezed and manipulated as you talk about their feelings and ways to self-regulate.
Even during PE exercises, you can use emotion spot markers not just for mini bases or indicating location, they also open a discussion about emotions.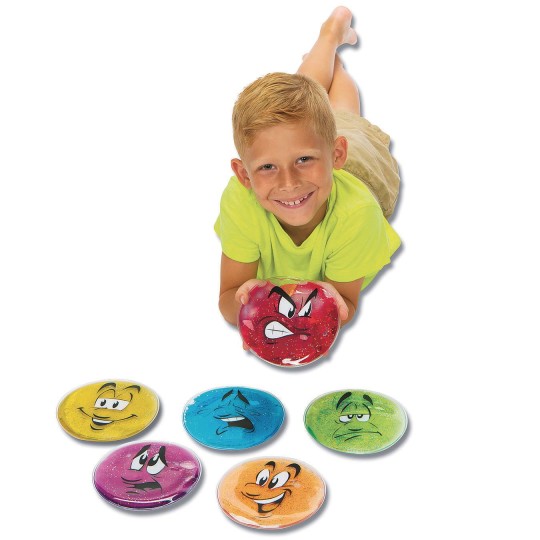 This understanding feelings set is adaptable for all ages and has been designed to help users learn about a range of feelings and enable them to communicate more effectively with others. Included in the set are 13 transparent acetate faces all with different expressions, along with 3 blank face-shaped dry erase boards, 3 blank faces on transparent dry erasable acetate and 3 face-shaped mirrors to observe self-expression. It also includes a guide with suggested activities and poster with labeled expressions.
Using the components of the set, you will be able to discuss, observe and better understand how you and others around you feel.
Help early learners to become aware of themselves and their emotions and help teach them to recognize and articulate their feelings. Mirrors are important tools that help to build a young child's self-awareness, self-esteem and cognitive development.
These clear acrylic mirrors feature etched designs with either three or five emotions in a set depending on which you choose. The set of 5 includes Happy, Sad, Surprised, Angry and How Do I Feel Today (blank face). These mirrors are safe to use because of their rounded edges and the material won't shatter if broken. You have the option to mount them to a wall or use as a handheld mirror.
Mindfulness Crafts
Kids can color their own kite with a positive message and to reflect on what they have learned about mindfullness.
Kids can gain a sense of self with this 3D craft. They can draw, paint or collage, then flip and fold to make a 3D portrait! Faint dots guide nose, mouth and eye placement. Includes forty card stock templates, basic portraiture guide and curriculum ideas.
Have students close their eyes and think of the words they would use to describe themselves. Instruct them to focus on just that moment and their own body and mind. This exclusive kit allows each person to create their own collage that describes who they are with words and the shape of their hand.
Posters 
Use these minset posters to create an environment where students are always aware of what is on their mind and how they can change their perspective.
You can also fill the classroom with postitive posters to create a good enviroment for kids.