One annual tradition that's fun to plan in nursing facilities is the Kentucky Derby on May 5th. With Derby Day fast approaching, schedule a few fun activities that will get your residents reminiscing about the past and looking forward to this year's running. To celebrate this year's Run for the Roses, plan fun activities that center around the traditions of the Derby, including hats, horses, Mint Juleps, red roses, and the Derby itself.
Hats
No Kentucky Derby celebration is complete without having over-the-top hats. Schedule a fun hat-making craft for the ladies, and provide them with straw hats that they can decorate with roses or other flowers.
In contrast, if the ladies would rather make their own hats this year, then use newspaper, masking tape, Scotch tape, and colorful tissue paper for the project. To construct the newspaper hat, simply take a large sheet of newspaper and place it on your resident's head, having her press down on the newspaper around the crown. As she's pressing down, take your masking tape to tape around the crown of the hat so that the newspaper comfortably rests on her head. At this point, don't worry if the hat looks messy, you simply want the hat to fit her head. Once that is done, remove the newspaper and begin decorating the hat (and covering the newspaper and tape) with colorful tissue paper, using Scotch tape to tape the tissue paper to the underside of the hat. Finally, add flowers, bows, and ribbons to make the hat complete.
Now that residents have their hats made, be sure to set up a few activities for residents to show them off. For instance, host a Hat Fashion Show for the ladies to walk the runway showing off their creations. In addition, on Derby Day, host a fun Derby Tea Party for the men and women to dress up in their best attire to sample pecan pie and Mint Julep sweet tea.
Horses
Before Derby Day, find out the names of the horses that will be running in the Kentucky Derby and plan a few activities around those horses. For instance, recruit residents to create several paintings of horses that can be hung in your Activity Room. Then make name tags for each horse in the race and place them under each of the paintings. That way, residents can become familiar with the horses and their names. For a craft, use a pony latch hook activity for residents that enjoy working with yarn.
If you are looking for a more active idea for your residents, host a Lassoing Competition where residents take turns using a rope to lasso a stuffed animal horse. Additionally, host a Horseshoe Throwing Contest using a plastic horseshoes game.
Set up a few horse themed puzzles in your Activity Room as a fun afternoon activity. This easy handling puzzle has large pieces, so it is great for visually impaired residents. For a smaller, less challenging option, you can lay out a tray puzzle which provides a guide around the edges and has less pieces.
For your less mobile residents, rent a DVD about horses from your local library that residents can sit and watch in your movie room.
Mint Juleps
During your festivities, pay tribute to the official drink of the Kentucky Derby, the Mint Julep, by planning a few activities for your residents around this traditional drink. For instance, host a Bartender Class to show residents how to make Virgin Mint Juleps. Use shakers and stirrers to demonstrate to your residents the proper way to make and garnish a Mint Julep. Then after teaching residents how to make the drink, allow them the opportunity to enjoy it. Turn up the country music and invite residents to socialize and have fun during a Derby Day Happy Hour, where they sample the Virgin Mint Juleps along with Kentucky Derby-themed treats like Bourbon balls and Old Kentucky Nut Cake.
Red Roses
Plan a few activities that include the official flower of the Derby, the red rose. For a craft activity, assist residents with making rose sun catchers that can be placed in your facility's windows as decoration. In addition, on Derby Day pass out rose pins for residents to wear on their lapels during the day. Use mini roses as gifts after the Derby to pass out to those who picked the Derby winner.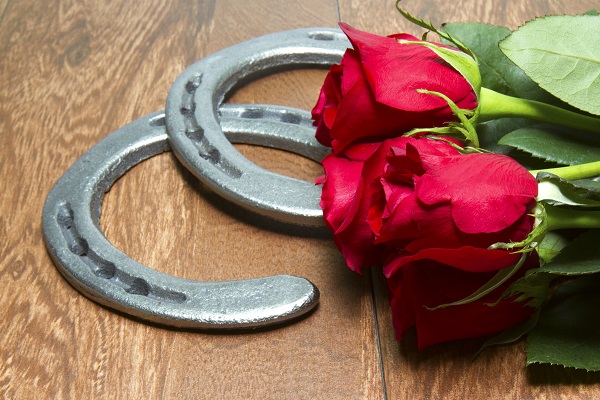 Derby
Before the Derby begins, be sure to get residents involved by taking bets. Make betting cards that simply have the names of each of the horses running in the Kentucky Derby, and print the betting cards onto cardstock. On the morning of Derby Day, pass out the cards along with play money and encourage residents to think about which horse they want to bet on. Then, enlist your facility's concierge to be the bookie and to take bets from residents throughout the day. Residents will circle the horses on their betting card and use the play money to place bets.
If your group is not a fan of betting, then consider setting up fun horse racing games for them to play, like a horse-racing dice game or even a horse-racing board game. You can even invite the grandkids over to play with the residents.
Lastly, set up an activity for residents to actually watch the Kentucky Derby on television. Invite residents into your Activity Room early so that they can watch the broadcasted festivities and even take part, like in singing "My Old Kentucky Home."
Also, thanks to one of our customers from Forwood Manor – Five Star Senior Living for sharing her idea:
"We will show the Arabian Horses movie and decorate the straw hats along with other horse racing activities on our "Derby Day" an annual wheelchair race event with teams of residents and staff. We have a huge rose covered horseshoe that is the trophy for the winning team, and we serve real and virgin mint juleps, and finger sandwiches." – Hope M.
About Not Just Bingo: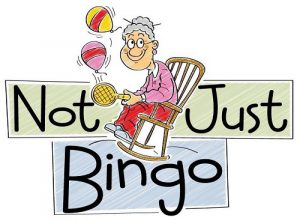 Not Just Bingo is an online resource of fun, senior activity ideas for activity professionals of nursing homes and assisted living facilities. They have been providing fun activity ideas online since 2009, and continue to assist activity professionals across the country by creating meaningful and engaging activity ideas for their residents that go "beyond bingo." Not Just Bingo feels privileged to help activity directors better the living experiences of their residents while demonstrating that a senior's quality of life can actually improve when they move to a nursing facility!
Want even more ideas each month? Visit www.notjustbingo.com for how-to activity ideas, monthly newsletters, and daily holiday ideas. You can also sign up for the Notjustbingo Membership to receive specialized activity ideas to keep your residents and staff engaged, active, and having fun!