This week for the Featured PE Teacher section on the PE Central Facebook page, the spotlight is on Scott Power!
About Scott:
I teach kindergarten through 5th grade at Schmalz Elementary in Katy ISD. Katy ISD is right outside of Houston. My school is a very large and transient campus. We have approximately 1300 students at our school and each of my classes has about 100 students. I am the lead Physical Education Teacher and Team Leader for the specials department on my campus. I am currently in my 12th year teaching. All of these have been in elementary physical education at Schmalz Elementary.
PE Focus for 2017:
My focus for the year is always based upon student success. I want my students to enjoy being physically active at their own level. Each student is exposed to a variety of skills, activities, fitness, social and health concepts throughout the year. My goal is for all my students to gain the basic understand of skills and concepts so they are confident in themselves. To do this I teach my skills with a scaffolded approach, where students can build upon their skills each year. I teach in skill themes rather than sports themes. For example I teach throwing & catching unit rather than a more traditional approach like a football unit. In my throwing and catching unit, students are able to differentiate their own level by choosing partners, types of balls, distance and speed to fit their ability. In this type of approach, all students can challenge themselves to improve, while being active and feel successful at their own level.
Favorite Lesson Plan/Unit: 
I have many favorite lessons to teach for a variety of reasons. One of these is teaching balancing/weight transfer unit (aka gymnastics). I teach in title 1 campus, and very few of my students are exposed to activities like gymnastics. So most of them are at a beginner level, so it creates an even playing field. In this unit, students really extend themselves and step outside their comfort level, since it isn't a traditional lesson many of them have had exposure to. To do this, I borrow mats and equipment from other schools around my district. We need lots of equipment to make it work and keep 100+ kids actively engaged in a gymnastics unit. We have 25+ stations around the gym were students have exposure to cartwheels, log rolls, candlesticks, balance boards, forward rolls, handstands, walking cans and much more. I have had the privilege to write this unit and many more to be shared in my districts lesson planing curriculum. It has now traveled its way to other campuses around my district. It is a lot of work getting it all together and organized, but seeing the kids faces light up when they come in the room makes it all worth it.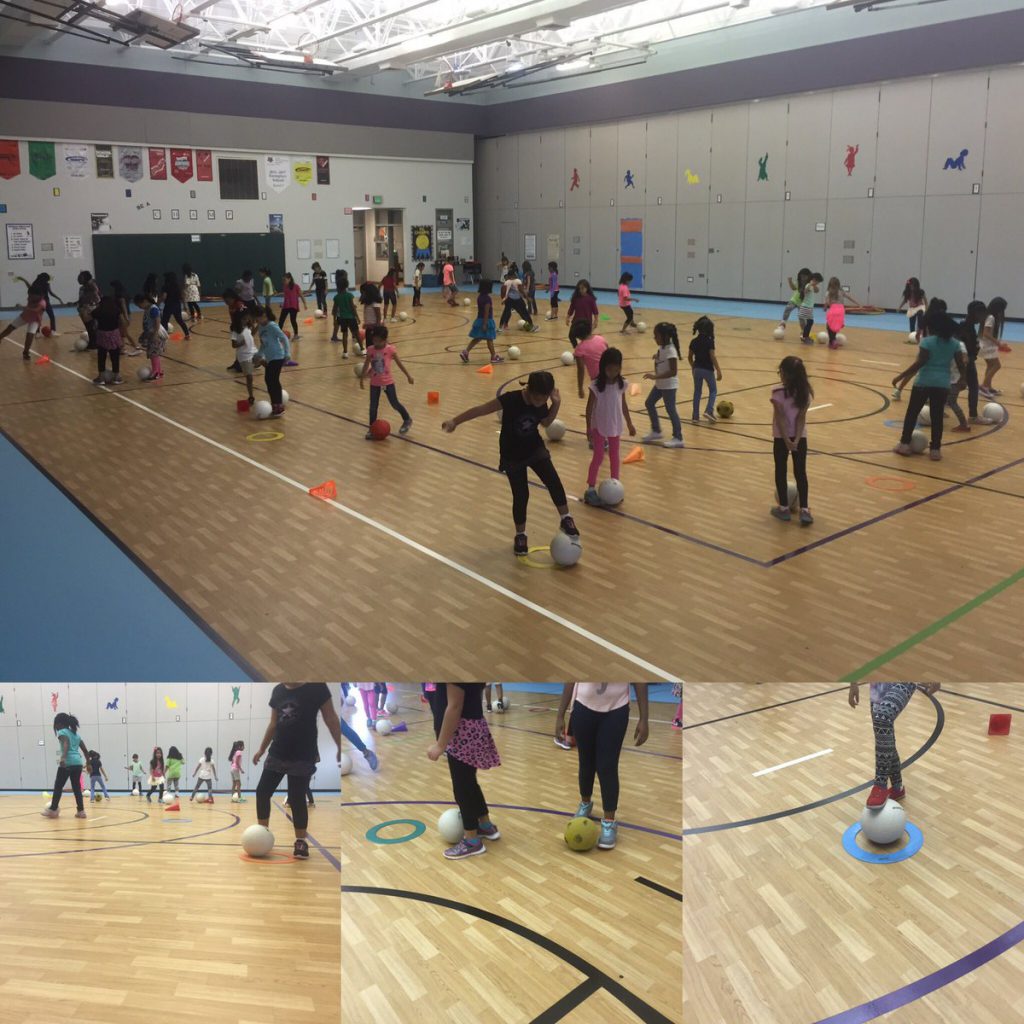 What is your favorite part about being a PE teacher? 
I enjoy my job a lot and have quite a few favorite parts, so it is hard to narrow it down to just one. However, one of the things I enjoy the most is watching the kids grow from year to year. Physical Education is the only place the whole school where you get to teach a student for 6 consecutive years. I get to watch the students grow in so many different ways. I get to watch them develop healthy lifestyle habits, social skills, educational skills and help mold them. I get to see them enter our school as a young kid and by the time they leave they have developed as person and are on the path to becoming a responsible young adult.