Not sure what to do for a sock hop besides playing soda shop hits from the 1950s and asking residents to dance? Well, here are a few ideas from notjustbingo.com to consider for your next sock hop party to get all your residents engaged and having fun.
Decoration
Since the 1950s was all about rock and roll music, decorate your Activity 
Room with lots of images that relate to music, making the room more festive. For instance, use a themed Rock & Roll Sock Hop decorating kit with tissue festooning and fans, a banner, whirls, musical note cutouts and more. Add to the musical theme with a musical notes decorating kit to hang lots of decorations from the ceiling. In addition, inflate musical note balloons to scatter throughout the room as well. In fact, consider placing a few of the balloons throughout your facility as reminders for your residents about the upcoming sock hop.
In addition, if you have tables in your Activity Room, be sure to cover them with classic checkered tablecloths to fit in with the 1950s theme. Add some more 1950's cutouts to decorate the room, with designs like a jukebox, hot rod, saddle shoes, and poodle skirt.
Food
If you decide to have your sock hop in the afternoon or after a major meal, you can provide dessert items as food for your residents. For example, set up an ice cream bar in your Activity Room (on your activity cart) where you can easily make and pass out root beer floats for residents to enjoy. In contrast, if you have the resources (the space and the volunteers), consider creating a milkshake bar where you can make mini milkshakes to order.
If, however, you want to use the party to serve main food for your residents, and you have the space for residents to sit at tables to eat (i.e., hosting the sock hop in your facility's Dining Room), then coordinate with Dining Services to serve classic soda shop food, like burgers, fries, and milkshakes. Conversely, if your residents are more interested in a traditional meal, then impress them with a tasty meatloaf dinner, with mashed potatoes and gravy.
Entertainment
To keep the party moving, try to interject fun contests and activities throughout the party, so that the party does not get stagnant from residents simply sitting and listening to music. Here are a few ideas to consider:
Battle of the Bands – Host a fun battle of the bands contest by dividing the room into two groups and having one group play instruments while the other group sings along to a fun 50's favorites CD. Be sure to pass out instruments to both groups and then instruct them to only play their instruments when you point to them. In addition, tell them that when their group is not playing the instruments, then their group should be singing along to the music (e.g., when you're pointing to the group on the right, then that group should be playing their instruments to the beat of the music while the group on the left should be singing along.) Alternate between the two groups during different stanzas of the songs. Encourage residents to keep an eye on you to know when their group should be playing or singing.
Elvis Hip-Swiveling Contest – So, who can swing their hips like Elvis? Host a Hula-Hoop contest to find out! Pass out Hula-Hoops, and invite residents to compete to see who can keep their Hula-Hoop up the longest.
Elvis Tribute – Pay a special tribute to rock and roll icon Elvis Presley by playing several of his greatest hits back-to-back for residents to enjoy. Encourage residents to jump on the dance floor to have fun.
Dance Lesson – Hold a brief dance lesson during the party to show residents how to do a few fun dances that were popular from the 1950s, like the Hand Jive or the Lindy Hop. If you have residents who remember how to do those dances, encourage them to help instruct as well.
Doo-Wop Lip-Syncing Contest – See if you have any crooners in your facility by recruiting residents to participate in a doo-wop lip-syncing contest. For the activity, simply play classic doo-wop music and invite a resident to lip-sync to the song. Provide residents in the audience with paper and pens to score each performance (1 to 10). If you have quite a few shy residents, consider recruiting your administrators and staff members for this fun activity instead.
Karaoke Contest – Recruit staff members and volunteers to participate in a fun staff member karaoke competition for your residents to judge. To get staff members to agree (and to make it less painful), encourage staff members to participate as a group representing their department (Memory Care group, Dining Services group, Housekeeping group, etc.). Beforehand, organize a special prize for the winner of the competition (yes, staff members want prizes too!) like a special pizza lunch, courtesy of the Activity Department.
Trivia Game – Residents can even test their knowledge with 50s and 60s trivia! Print fun trivia questions for them to play. This is a great reminiscing activity and a fun way to get memories flowing.
Be sure to check out our Fun 1950s Themed Activity Ideas for Senior Residents blog for even more ideas!
About Not Just Bingo: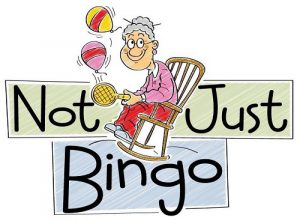 Not Just Bingo is an online resource of fun, senior activity ideas for activity professionals of nursing homes and assisted living facilities. They have been providing fun activity ideas online since 2009, and continue to assist activity professionals across the country by creating meaningful and engaging activity ideas for their residents that go "beyond bingo." Not Just Bingo feels privileged to help activity directors better the living experiences of their residents while demonstrating that a senior's quality of life can actually improve when they move to a nursing facility!
Want even more ideas each month? Sign up for the Notjustbingo Membership to receive specialized activity ideas to keep your residents and staff engaged, active, and having fun!