The "Dog Days" of summer are here, and everyone needs to find their own way to get out of the house but also to stay cool! Whether it's fun swimming activities in the pool, staying cool in the shade, or just staying as hydrated as possible, there are steps to be taken to make the unbearable heat just a little bit more bearable. Below are some essential items and activities to stay cool. These can be used for summer camps, at the beach, or even just in the backyard. Hopefully you find one to enjoy and take advantage of!
Water Balloons are a classic summer activity, and can be fun for anybody at any age. It's always fun to have a little competition while trying to stay cool in the process, and the best part is water balloons can be used for many different activities. Check out this idea worth sharing on our blog, which adds color to a water balloon fight! You can even use this 3 person water balloon launcher!
Dip your toes, dive in, or even just float around! This inflatable pool is a great, quick way for everyone to stay cool in your own backyard if you don't have a full sized pool. Kids will love this on hot summer days, and you can even bring in some toys like these water bombs to add some fun to the mix!
Don't have a pool? Here's a great way to get wet and beat the heat instead. The splash and spray ball only takes a garden hose to power up, and will fire water in all directions once it's set up. This is a great thing to have for a party, or just a hot day to give kids a chance to cool down.
If a big group needs to find some activities in the water, there's no better option than this easy pack! Everything you'll need for a hot summer day including water balloons, goggles for swimming, even beach balls and slingshots to fire those water balloons come within it. Only 10 in stock, order now!
Staying in the Shade
Umbrellas, tents or canopies
Finding a good spot in the shade is vital to avoid getting too hot on these blistering summer days. However, another option is to make your own shade. With our Color-Me Umbrella, you can have shade on the go, and even design your own patterns on the umbrella as well!
If a larger, less portable option of shade is needed, a better option would be to get a pop-up canopy to keep the whole group cool.

Feel the Breeze
Fans
Fans are a great way to get some wind blowing, and the air circulating to keep the area cool. When not near an outlet, a handheld folding fan is a great thing to bring to a hot place. You can even design your own folding fan with this fan craft kit!
If you have a large group activity and need to make sure everyone stays cool, you may need a more heavy duty pedestal fan with adjustable height and 3 speeds. 
Staying Hydrated
With the summer being the hottest time of the year, everyone's bodies need a little more water to stay properly hydrated. There are many ways to do this while staying outside and having fun in the sunny weather. For a bigger group, try setting up a hydration station with a water cooler, or with a set up of collapsible water bottles for a quick, on-the-go way to stay refreshed. If you just need a portable way to stay hydrated, get a Gatorade bottle or even make your own water bottle!
Be sure to also provide your group with plenty of bottled drinks like water, juice and gatorade to get them through the day outside in the heat!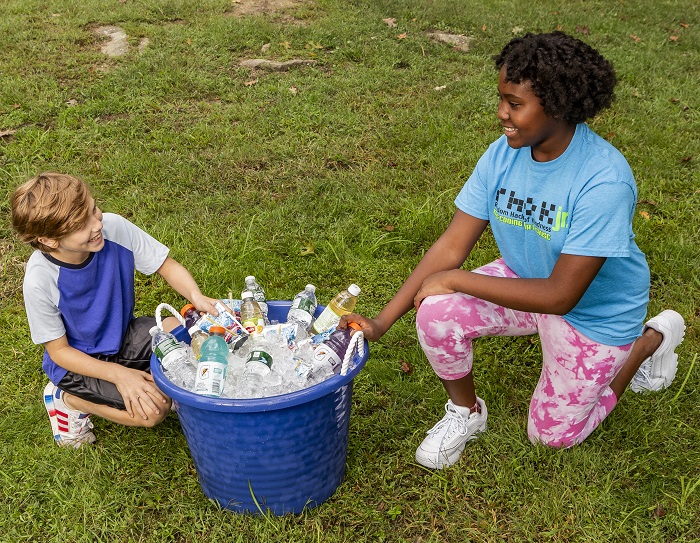 Games and Activities for the Water
Of course going in the water, pool or beach, is one of the best ways to cool your body down during a hot day. A great way to make those trips to the beach or pool way more enjoyable is by adding some games or activities to the scene. Pool noodles, water blasters, and aquatic squirters are some great items to bring to spice up your swim.
If you want to get some games going in the water, bring a beach ball or a game of ring toss. These games are great to make staying in the water more than a chore on these hot days, and they work for any age! Even if you wanted to play a game by the pool, bring some waterproof playing cards or inflatable tic toe that can be played both in and out of the water.
These hot days are only going to be around for so long, but they're going to be missed come wintertime. Take advantage of them in whatever way possible, but stay cool and remember to put on sunscreen!