Field trips to the pool and pool parties are a big part of summer fun for kids. Although we have pool noodles and endless beach balls here at S&S, we wanted to help introduce you to some fun pool activity ideas that ensure everyone at the pool has a good time. We've even included activities to include children that don't want to or are not ready to swim yet.
These activities were grouped together because they are easy to transport (field trips) and easy to store (most are inflatable).
The classic game of tic tac toe – but jumbo! With an oversized and inflatable game board and pieces, this game is perfect for the pool or the lawn. Play on teams of two, or one on one. Kids that are not swimming can also play outside of the pool or toss from the side of the pool. The pieces are also two colors, blue on one side and orange on the other.
We love this craft kit because it has everything you need to let creators design and paint their boat. Then they can take it to the pool for a good old fashion boat race. The air from the balloon powers it across the water! Add some obstacles to create more of a challenge. Then hand out prizes to all of the participants.
For an activity outside of the pool, plan for kids to try out this Jumbo bubble set. The wands, bubble soap, and dish are easy to transport and make for a great activity for everyone. The wands are brightly colored and come in an assortment of fun shapes.
This awesome ring toss is 54″ tall making it fun and challenging for everyone! There are endless possibilities and pool games you can play. It comes with the base and numbered rings which can also be used as flotation devices. If you have two sets, teams can race to see who gets all rings first. As they win, they have to shoot from farther away.
This new pool favorite adds a new dimension to active play! Kids can crawl through it, go for a spin, or use it for climbing. There is also confetti inside the chamber edge for a fun visual sensory experience. The mix of frosted and clear heavy-duty vinyl allows kids to safely see where they are going. Holds up to 150 lbs. Get two and have students race to the finish line!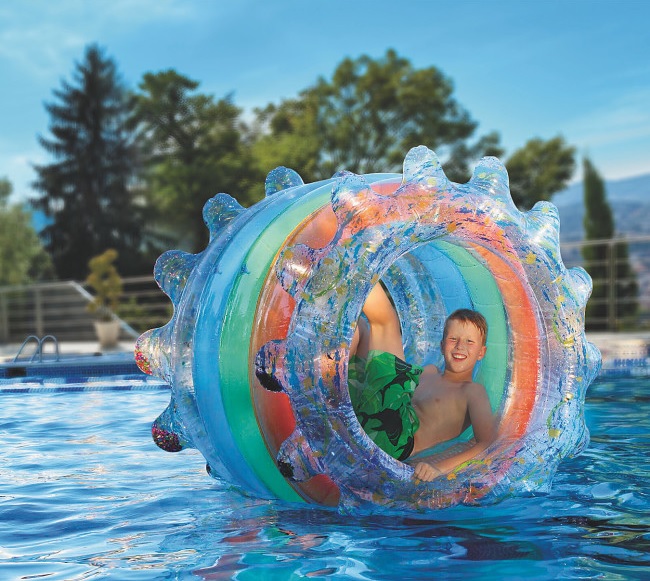 Our inflatable Mondo Mancala is one of our top games this year. It is so popular, we can barely keep it in stock! Children love the classic game of Mancala, so they will love this jumbo version even more. It is very lightweight and portable, and it comes with a bag for the balls plus an activity guide for other toss games or pool games. Also a great activity for children who are not participating in swimming.
Enjoy a game of disc golf on the lawn or in the pool. This game is fun for a whole group of players and even helps with hand-eye coordination. Aim your tossing rings or discs for the flagpole, and make up your own games and scoring rules! This is a very versatile game and can be played indoors, outdoors, in the pool or on land.
For even more pool games and summer favorites, visit www.ssww.com/favorite-summer-products