When you think of summer camp, you probably think of swimming in the lake, going horseback riding, or learning how to roller skate. While your nursing home residents may not be able to do any of those activities, they can still participate in activities that encompass what summer camp is all about: learning new things, meeting new people, and having fun!
Learning New Things
Each Monday, host a different activity in which you teach residents something new, like learning sign language, tiling with grout, or making origami. In addition, be sure to read over your volunteers' applications to learn more about their favorite hobbies, in hopes of creating a fun, new activity that your volunteer can lead. For instance, if your volunteer is a baker, then host a Cake Decorating Class; if your volunteer likes to dance, then host a Line Dancing Class; and if your volunteer is a teenager, then host a Tech Class.
Going Places
Every Tuesday, arrange to take residents on a fun outing. Contact your county's historical department to plan scenic rides near historical landmarks in your city. If you have residents who like to dine out, consider scheduling a Lunch Bunch activity to a popular local restaurant. If paid outings are not an option, however, then schedule free outings to local museums or simply to the mall to people-watch.
Being Creative
On Wednesdays, allow residents to express their creativity with fun art projects. For instance, provide easy-to-use craft kits and art supplies for fun summer projects like making sand art or watercolor art. If you have residents who like to create their own artwork, then provide them with blank canvases and paint so that they can create their own masterpieces.
Using Their Hands
Each Thursday, set up several tactile activities for residents to use their hands to build, assemble, or craft. For instance, supply residents with unassembled model kits to configure and paint or with colorful yarn and knitting needles to knit scarves. If coming up with craft projects each week seems daunting, then recruit your volunteers to scour the Internet for ideas or simply purchase a summer craft kit pack that has different crafts within the pack that you can use each week.
Meeting New People
Finally, on every Friday afternoon, arrange for a mixer in your Activity Room to bring residents together for them to meet and greet one another. Play music and encourage residents either to participate in a sing along or to play instruments. You can also have them pass around a Toss & Talk ball with fun ice breaker questions to answer. Additionally, to entice your residents to come out of their rooms to socialize, plan a special happy hour menu featuring tasty appetizers and fruity drinks.
About Not Just Bingo: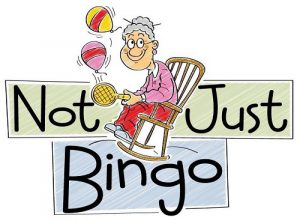 Not Just Bingo is an online resource of fun, senior activity ideas for activity professionals of nursing homes and assisted living facilities. They have been providing fun activity ideas online since 2009, and continue to assist activity professionals across the country by creating meaningful and engaging activity ideas for their residents that go "beyond bingo." Not Just Bingo feels privileged to help activity directors better the living experiences of their residents while demonstrating that a senior's quality of life can actually improve when they move to a nursing facility!
Want even more ideas each month? Visit www.notjustbingo.com for how-to activity ideas, monthly newsletters, and daily holiday ideas. You can also sign up for the Notjustbingo Membership to receive specialized activity ideas to keep your residents and staff engaged, active, and having fun!
tjustbingo Membership to receive specialized activity ideas to keep your residents and staff engaged, active, and having fun!