Okay so maybe "need" is a bit of an overstatement, but I'll let you be the judge. Get ready to have a blast this summer, because you can plan the best summer ever with our favorite products. I think you'll agree that these items are great for outdoor fun!
Super Sizing Summer for Super Amazing Fun
Adults and Kids could have fun with this for hours.  It's a safer version of a bounce house and there are so many games you could incorporate with it.
Who doesn't love bubbles? This is a great portable item to bring to the park or camping as well.
So many fun activities. This ball is 4 feet tall. This would be a huge hit at the beach, a kid's party or even summer camp.
Whether it is chess or checkers, this game is much more interesting when it is Jumbo and you have to actively have to walk to move the pieces.  It's like you are actually "in the game". We have several options ranging from Jumbo to Ginormous!
Kids will love this inflatable bouncing Jump-o-lene! Great for providing kids with a safe place to jump around. You can also add ball pit balls for even more fun, or use as a pool!
A larger version of the popular game Kerplunk, this has the same effect as the Giant Jenga game and kids and adults can't help but want to play.
This game is great for getting outside and getting active! Challenge kids to learn throwing skills with a football. Play a complete game or just use the 5 targets to increase accuracy. Includes durable canvas target, support poles and stakes and 4 junior sized rubber footballs.
Some Good Ole' Fashion Fun for the Summer
Perfect on hot days. Draw a line with sidewalk chalk or spray paint and you can see who can launch their balloon the farthest. Then use the water balloons to cool down!
A golf ball spin on horseshoes. This game is not only fun for a wide range of ages, it's challenging. Great for summer family picnics!
This game may be new to some of you, and I was so happy to find it on our site. I played it back in college when it was called Polish Horseshoes. This is such a fun game!
Experiencing New & Fun Games this Summer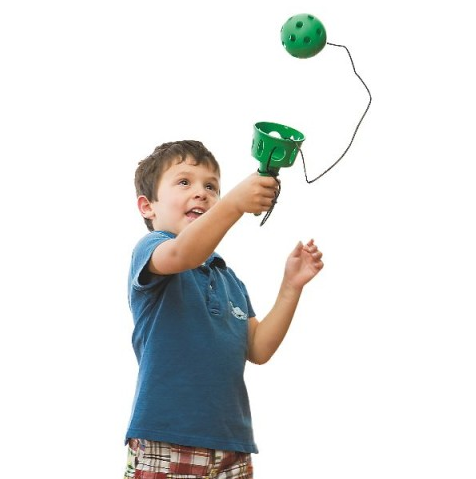 This classic "pop and catch the ball" game is simple, captivating and a great hand-eye coordination test. Swing the 3″ plastic ball on a 30″ string and catch it in the handled catch cup. The pack includes 6 Catch-A-Ball cups and balls, one in each Spectrum™ color, plus an activity sheet with interesting game variations. We believe in trying new things throughout the summer, so mastering something like this would be awesome.
Whether it is around the camp fire, indoors on a rainy day, or an ice breaker – I love table games because you really get to know people, you learn new concepts, and it also helps with cognitive thinking.
What can I say? I've already bought this! Every child I know (including my husband) would love this activity.
That's our list of summer activities! Let us know in the comments below which one is your favorite!