Organization plays a huge support role in managing your classroom. Easy access to materials and an understanding of classroom flow can have a dramatic effect on student learning. Teachers need to consider special needs of students, room for themselves to walk around and monitor, and how to minimize disturbances during lessons.
Storage bins, carts, crates, and containers are all without a doubt handy in creating the perfect organized classroom environment.  Ready to make full use of your classroom space, but don't know where to start? We've put together a list of items to help you create a fun and welcoming learning environment, right off the bat!
The Tilt Bin uses our lock tight Jumbo Bins with bright colored handles and translucent tops for easy content identification. This is perfect for storing manipulatives or starting a Makerspace to encourage students to create.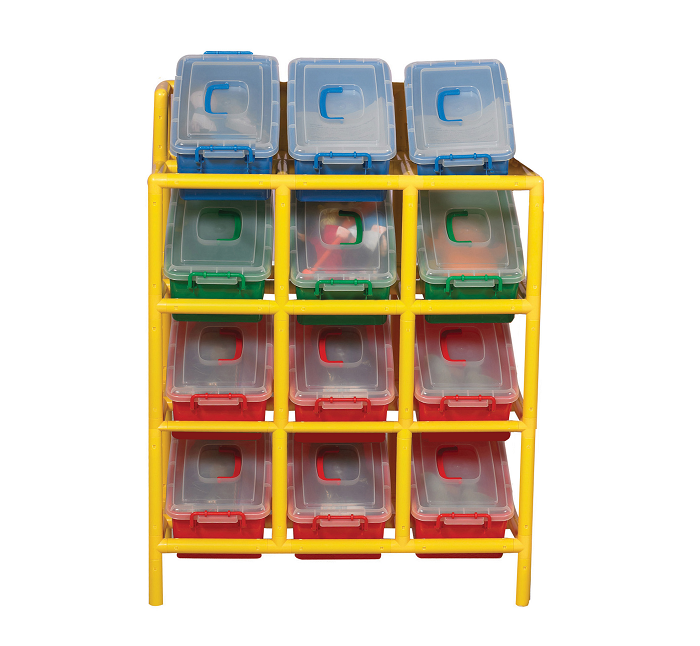 Classroom Keepers Paper Organizer
We love these paper organizers because they are cost affordable for our customers and allow for students to practice responsibility and organizational skills. Plus, it helps you know when you are running low on certain color papers. There are so many options for sizes too!
These Deflecto® Interlocking Tilt Bins are an ideal storage solution for a variety of different needs! Store craft materials, novelty items, office room supplies, candy, or any small everyday items. They connect vertically and horizontally and are easily removable for cleaning and refilling.
This letter size clipboard storage case is great for tasks on the go! The clip holds up to 100 sheets. It comes with a storage compartment for paper, pens, pencils, and more. There's also a convenient hole for hanging.
Brighten up your classroom with over 10 different colors of these awesome paper trays. They are perfect for storing notebooks, assignments, and even scrap paper.
Small classroom space? Make learning mobile! The organization possibilities with this Art Cart are endless. There are drawers, shelves, and even areas for our paper trays mentioned above. Use it to store science and art supplies or since it locks, you could even store personal items inside.
A storage classic! Stack these Storage Containers right on top of each other to save space. They are great for craft items, blocks, and manipulatives.
One of our best sellers, this 15-Drawer Storage Cart on wheels is a classroom hit with teachers and students. It is convenient, and very versatile. It can hold anything from arts and crafts projects to office supplies.
These plastic containers come in a variety of sizes, which makes them great for keeping different items organized. The feedback from our customers is that they are high quality and they love the snap lid.
Store and secure items with ease!  Another great solution for a smaller classroom or reading area where you may need to share space throughout the day. Items that could be a distraction or need supervision are great to store in this cabinet.
Which items do you think would work best for you to create an organized classroom? Leave us a comment below!