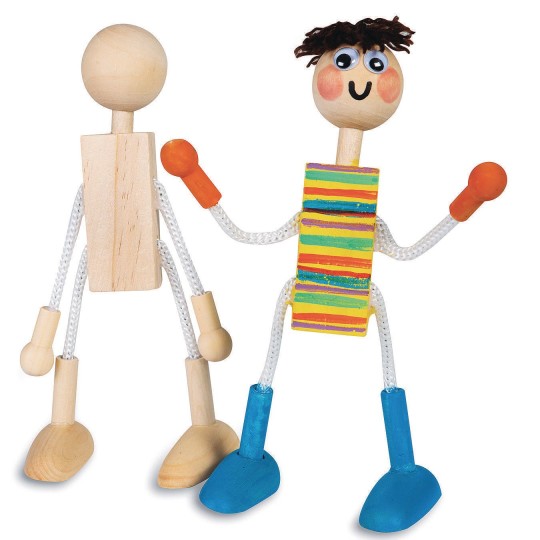 Kids will have a blast coloring or painting these fun wood doll toys! Their arms and legs are made of sturdy, poly-cord limbs that are flexible for posing. This is a great activity for dramatic play, and also teaches kids about movement and motor skills.
Materials:
Instructions
Step 1: Choose the colors you'd like for your wood doll. Use acrylic paint to paint the body, feet, and hands. Allow to dry.
Step 2: Add cheeks by dipping the eraser end of a pencil into your paint and dabbing it on.
Step 3: Glue on the wiggly eyes and add a mouth with a black marker.
Step 4: Cut a small piece of yarn. Pull apart the threads so you have thinner pieces. Glue on thin pieces of yarn for the hair.
Step 5: Have fun posing and moving your doll! Kids can use this for dramatic play and to learn about movement. flexibility, and motor skills.
Fun Ways to Use this Craft
Many of our customers have loved this craft project! You can paint the dolls for different holidays or themes, and for several types of kids programs.
"This was a terrific addition to our summer camp arts and crafts program. We used them in a module teaching children how their bodies move. They were able to decorate them with regular washable markers. We had kids from ages 5 to 11 in our group and everyone was engaged. Yes they were a bit tricky to make stand up but that wasn't an issue as the kids worked to figure out how to balance them. You could add so many extras to these like yarn hair googly eyes etc. The kids were asking for more to take home. I really loved these." – Summer Camp Director, NJ
"I used these in my Sunday School class for children to make a replica of themselves. They were so excited. This is the best project we have ever done." – Boones Mill, VA