Outdoor Fun, Physical Activity and Summer Camp Planning are in full swing during our May Customer Inspirations! We've pulled together some of the ideas our customers have shared with us to share with you. Want to submit your own idea to us?  You can email us at [email protected]. For more ideas shared by our customers – head to our Customer Chatter Page. Follow the hashtag #sswwtrends on social media.
We love that a little of this Crayola Washable Paint can create such a happy environment.  What a wonderful donation to the children and families at a Children's Hospital.  To be able to see the different creations and have them bring joy!
These REWARD PINS from the PE Central Cooperative Skills Challenge are a great way to reward students for their improvements. You can see the PE Central Cooperative Challenges, clicking here.
What a perfect outdoor activity with a science lesson on the history of Photography using our Nature Sun Print Paper. Include a scavenger hunt as well and you've got a full day's activity.
How cool is the Eggtastic Idea shared on Instagram – using plastic eggs and our Tempera Paint.
No Field Day is complete without a Co-Op Walk!  This PE Teacher has her planning and her implementing of Field Day under way!
We are so impressed with this cozy fireplace scene that one of our customers created with our Design Fadeless Print Rolls for their residents. 
This customer is loving our gel fidgets, weighted gel lap pad and our liquid tile mats!
Incentives for a Summer Reading Program are a must and what better way to engage readers in their summer reading than with a cool science exploration activity, like our Break Your Own Geodes!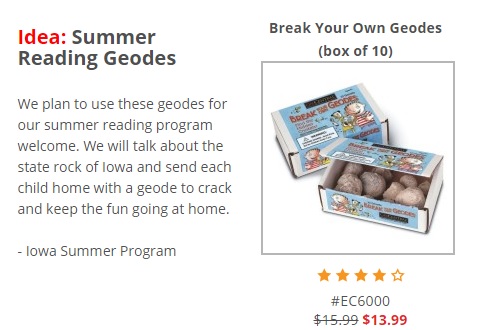 Fun Bash is under way with another Game Party and looks like our Mondo Mancala is center stage!
Everyone loves a good round of mini golf and we just think it is so awesome when you get to create the course you play on!  This customer purchased a handful of our fun golf accessories to design there very own mini golf area.
We would love to hear from you too on the fun, cool, engaging and creative activities you are doing with your S&S Worldwide Products! Email us at [email protected]