Ceramic Bisque is a super versatile material that you can easily decorate with just about any materials you have on hand from water based paint, colored pencils & even crayons. These top selling ceramic bisque crafts are suitable for any age group from kids to seniors! They will fit any theme and are perfect for gift making or keepsake home decor crafts for your next paint night event.
The creative possibilities are endless with these easy Color Me crafts that have you set up for success. Decorating materials sold separately. All items below come in packs of 12 projects each and individually packaged for easy distribution. Happy Crafting!
1. Color-Me™ Ceramic Bisque Tiles
These thick 8″ x 8″ ceramic bisque tiles are open to all sorts of creative options! Paint or permanent marker can be used to decorate it. Create a garden decoration, a hot plate or trivet, or even a wall plaque! If creating item for outdoor use, the tile needs to be sealed on all sides with outdoor sealant for best results. To keep paint colors bright, it's best to base coat ceramic bisque with white acrylic paint to prevent your decorating materials from absorbing into the ceramic surface, which can make colors subdued and pastel looking. Of coarse if your going for a vintage distressed look you can skip the acrylic base coat.
2. Color-Me™ Ceramic Bisque Gnomes
Decorate this cute ceramic bisque gnome and add him to your dish garden or an outdoor space. We recommend using acrylic paint with a small detail brush, fine point markers for detail or even colored pencils for decorating. The item should be sealed with outdoor sealer if placing outside and kept inside during winter months if below freezing. This seasonal storage tip is a good idea for all your outdoor ceramic garden decor.
3. Color-Me™ Ceramic Bisque Fairy Door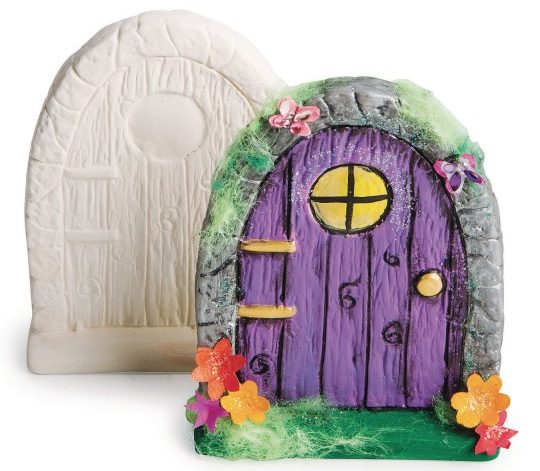 Create a magical ceramic bisque fairy door for use inside or outside! Decorate this detailed ceramic bisque door with acrylic paints, permanent markers, and more. If using outside, we recommend finishing with an outdoor sealant.
4. Color-Me™ Ceramic Bisque Mason Jar
Decorate this Mason style ceramic bisque jar to create a charming vase or container. The finished sample above was made using our Color Splash acrylic paint. Jar is glazed on the inside to hold water. These jars can be easily personalized with monograms or create chalkboard paint labels for open air storage.
5. Color-Me™ Ceramic Bisque Star Votives
"Star light" shines in this star votive holder with 2 different star designs. The ceramic holder is bisque-fired to accept paint, markers, colored pencil and even crayon. The finished sample above was made using our Color Splash metallic acrylic paint that was sponge painted in layers over a base coat of black acrylic paint for a galactical look that we think is out of this world! Use with real or faux tea light candles.
View our full line of ceramic bisque crafts here.