Need help deciding what your facility's Crafts Club should make to sell at an upcoming Crafts Fair? Here are four types of crafts to consider for your crafty senior residents from our friends at Not Just Bingo.
Ceramics Crafts
Appeal to the grandchildren who attend your Crafts Fair by inviting residents to decorate fun projects just for them, like these tea party-sized cup and saucer sets using permanent markers or acrylic paint, or piggy banks that come with their own paint and brushes for your residents to decorate.
In addition to glazed ceramic crafts, you can also provide residents with ceramic bisque crafts that grown-ups would enjoy, like ceramic planters or garden gnomes. Ceramic Bisque crafts have a very versatile surface that can be decorated with a wide variety of supplies. See our full line here!
Sewing & Stitching
For your Crafts Fair patrons who enjoy embroidery, supply residents with kits that allow them to show-off their needle skills, like a cactus embroidery kit or other stitching crafts.
Painting Crafts
In addition, encourage residents to paint several different paintings for the fair, like watercolor prints, lighthouse paintings, or easy-to-paint scenes, where the paint is already in the pictures and residents only have to add water. See all of our painting craft kits here!
Home Decor Crafts
Finally, organize several craft activities featuring houseware items, including kitchen accessories like oven mitts and pot holders that can be decorated with fabric markers.
In addition, show residents how to weave baskets using yarn, assemble macramé wall hangings using cording, and assemble birdhouses using glue.
Find more ideas from Notjustbingo on the S&S blog here.
---
About Not Just Bingo: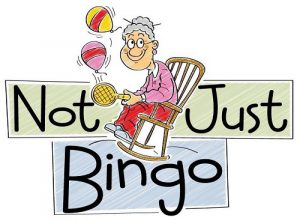 Not Just Bingo is an online resource of fun, senior activity ideas for activity professionals of nursing homes and assisted living facilities. They have been providing fun activity ideas online since 2009, and continue to assist activity professionals across the country by creating meaningful and engaging activity ideas for their residents that go "beyond bingo." Not Just Bingo feels privileged to help activity directors better the living experiences of their residents while demonstrating that a senior's quality of life can actually improve when they move to a nursing facility!
Want even more ideas each month? Sign up for the Notjustbingo Membership to receive specialized activity ideas to keep your residents and staff engaged, active, and having fun!