Learn 4 simple fundraiser ideas that you can use to raise money at your school! We teamed up with Family Fun Magazine to provide teachers and parents with some fun new ideas.
Find some great ideas below and download the entire printable guide here: Best School Fundraiser Ideas
Wide World of Pledge-a-thons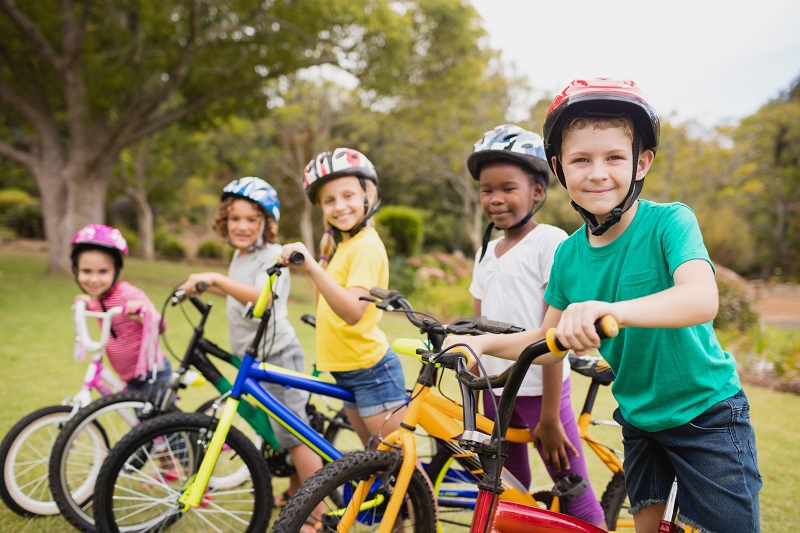 Idea: Do just about anything – but collect money for it. Here's a list of ideas for marathon-style events.
Bike-a-thons & trike-a-thons:

Older kids complete miles and younger ones laps around a track. One Tricycle Rodeo in California even had the trikes decked out like steeds, with the tots in full cowboy regalia!

Miracle Marathons:

Kids log a cumulative 26.2 miles of walking, running, or other exercise over a designated period of time.

Serve-a-thons:

Students volunteer a number of hours to clean up city parks, visit nursing homes, or perform other acts of kindness.

Read-a-thons:

Kids collect pledges for finishing books, or they participate in a marathon read-aloud session.

Think-a-thons:

Kids commit themselves to learning a certain amount of information.
When "War" Makes Cents
Idea: Use a classroom competition to rake in bucks by the bucketful. A penny war combines the simplicity of a donation jar with the fun of a good-natured prank. It is basically the same as a Penny Drive, just with a bit of friendly competition. It's a fund drive parents have praised as remarkably effortless. Classrooms compete against one another by collecting pennies in labeled milk jugs; the classroom with the most at the end of the week wins.
Where's the prank? Students can sabotage other collections – and yet benefit the school – by filling the jars of their rivals with silver or paper money: every nonpenny cent gets subtracted from the penny total. Some schools tally daily totals to fan the flames of friendly rivalry; others wait until the end and award the winning class a prize. Either way, it's one coin-op competition the school can bank on.
More Bake Sale Bucks
Idea: Use easy tricks to increase your bake sale profits.
Package it right:

Seal brownies, snack mixes, and other treats in clear plastic wrap or bags. Ask your child to tie them up with curling ribbon and add a handmade label. Or set out cookies, unwrapped, in a cloth-lined basket or tray.

Soar to new heights:

 Maria Olia of Newton,Massachusetts, suggests arranging boxes under a colorful tablecloth so all the baked goods are attractively displayed at a variety of heights.

Entice them with free samples:

If baked goods arrive crumbled, don't toss them out. Set out a plateful as free samples.

Make eating easy:

Provide a basket of forks and napkins so folks can instantly enjoy their purchases. Ask one parent (or a local business) to donate cartons of milk, juice, or water.

Think "bakery sale":

Charge about 50 percent of your local bakery store prices. Also, price items in 25-cent increments to simplify changemaking.

Sell single servings:

A whole cake may sell for just $8, while individual slices can sell for $1 to $2 each, netting you $10 to $16.

Make prices easy to view:

Ask kids tomake amini sign for each itemthat lists the price. Ormake one big price poster and set it up on an easel.

Ask for donations:

Instead of pricing each item, ask for donations (people can be surprisingly generous).

Have an End-of-the-Day Sale:

 When the bake sale is winding down, cut your prices in half.Mark the sale prices with a red pen or bright stickers.
Slime and Punishment
Idea: Inspire schoolkids to raise money by appealing to their principals!
Most students have a story about the self-sacrificing fund-raising antics of their principal. To these brave leaders and the many others who ran laps, got soaked in dunking booths, took kids to lunch, and auctioned off their priceless time, skills, or pride for the common good, we salute you. A few of our heroes:
Mrs. Soltero-Ruiz of the Wallen Andrews Elementary School in Whittier, California, who got a pitcher of slime poured over her head after the school passed its $2,500 penny drive goal.
Mrs. DeBartolo of the Coretta Scott King Magnet School in University Park, Illinois, who got "stuck for a buck" to the wall by students who bought $1 pieces of duct tape.
Mr. Lyon of Copper Rim Elementary School in Globe, Arizona, who fulfilled his promise to strut across the school stage in high heels once the students hit their fund-raising target.
Mr. Reehl of Sheldon Woods Elementary in West Olive,Michigan, who choked down a live night crawler after students surpassed their $6,000 fun run goal.
Dr. Gilmore of John J. Jennings School in Bristol, Connecticut, who celebrated a lucrative read-athon by kissing a pig.