Staying organized is the key to a successful classroom. It allows teachers to streamline their lessons and materials, and even helps keep students focused and on task when they know where to find everything they need for a lesson. We've gathered some creative ideas from teachers on how to stay organized using ordinary storage containers to hold materials like books, papers, and pencils. Start off the new year with some of these awesome ideas, and be sure to check out the items in our Storage category to help with your organization!
Book Baskets for a Classroom Library
Use colorful book trays or even flexible bins to store books for your classroom library! Organize them by author, nonfiction, fiction, genre, or title. We love these bins created by Lessons with Laughter, which make it easy for students to browse and find the book they are looking for. Be sure to designate a specific area in the classroom for these book baskets.
Novels fit well into small containers and make it even easier to stay organized! This teacher from The Colorful Apple shares how she uses a color-coded system for her 5th grade students, so they can easily find books in the classroom library.
This concept can also be used to store interactive notebooks for different subjects, like this teacher from Glitter in Third. Each notebook box is color-coded, so when she tells hers students to go get the blue notebook box to prepare for a lesson, they know exactly where to find it.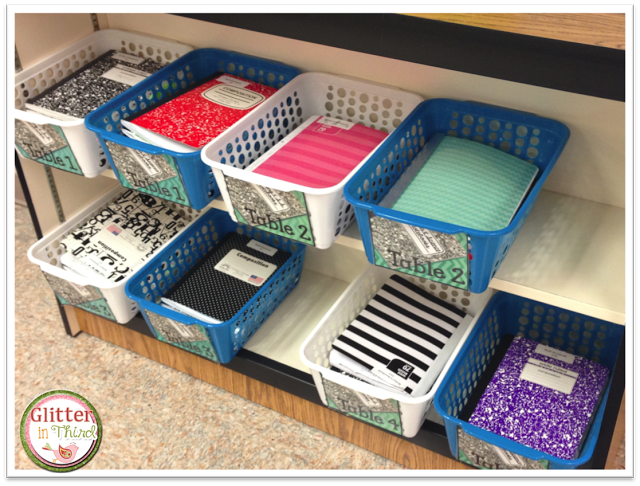 Organize Small Classroom Materials
If you have small materials that are used often in your classroom, store them in clear tubs or containers to make them easy to access. Add labels so that students will clearly know where the items are, and where to put them back. The Brown Bag Teacher gives some helpful tips on keeping math materials organized.
Turn Storage Containers into Folder Holders
We love this idea from The Good Life to keep important papers such as portfolios and mail in crates or storage containers for simple access. It is a low cost way of staying organized! They are also placed in a designated, labeled area.
Create a bin like this one from Amanda Lee from Pinterest for when students are absent. Keep all assignments in the file bins so they can easily refer to the date and make up the work.
Spice up Your Filing Cabinets & Bookshelves
This super creative idea found on FACS Classroom Ideas will definitely spruce up your filing cabinets and your classroom! Put two cabinets back to back to create a magnetic bulletin board! You can also use the space to hang a calendar or pocket chart.
Second grade teacher Hope King shared this idea on Blog Hoppin'. Instead of putting bookshelves against the wall, use the extra space for more teaching material. As we all know, space is super important when you are a teacher!
Use a Caddy for Common Materials
Turn an ordinary caddy into a "team tub" like the ones from True Life I'm A Teacher. The multiple compartments can be used to hold tons of classroom supplies that are used often, like index cards, sticky notes, pencils, and specific items related to a lesson. If you need closed containers for small items, this stackable caddy organizer is such a cool item.
This is another great organizational caddy from The Good Life. Great for pens, pencils, markers, scissors, and more. Notice how she also uses soap containers to keep supplies  organized!
Have a Place for Lost Items
One of our favorite ideas for organizing your classroon is the I'm Lost Bin from Miss Giraffes Class. Sometimes there are little items around the room that get lost, like a math cube, marker cap, or paper clip. Instead of them ending up on your desk or left on the floor, have a designated bin for them, like these flex tubs. You can also assign a student each week to help find where the items belong.
Keep Drawing Materials Together
Use a desktop storage container to organize writing and drawing materials like pencils and crayons. You can get super organized like this example from Learning in Wonderland, and separate sharp, dull, and new pencils. This helps teach students responsibility of remembering to sharpen the pencils when they get dull.
To make coloring projects easier, create a drawer for each color crayon or similar crayon colors like these ones from Sunny Days in Second Grade.
Bulletin Board Binder
Do you have a specific place for your bulletin board letters and cutouts? We found this idea on Clutter-Free Classroom for keeping them organized in a 3 Ring Binder! This also helps keep the materials safe from bending, water spills, and fading!
PE Teacher Organization
It is also important for physical education teachers to keep their equipment organized! Use some shelf totes to separate items like polyspots, beanbags, and pinnies. If you have a wide selection of sports balls, keep them in mesh bags or an equipment cart.
Tell us your ideas for keeping an organized classroom below.
View all of our storage solutions here!
---
If you are an avid DIYer and would like ideas on how to make your own unique and creative bookshelf, check out this blog from Insteading – DIY Bookshelf: The 22 Best Projects To Try.