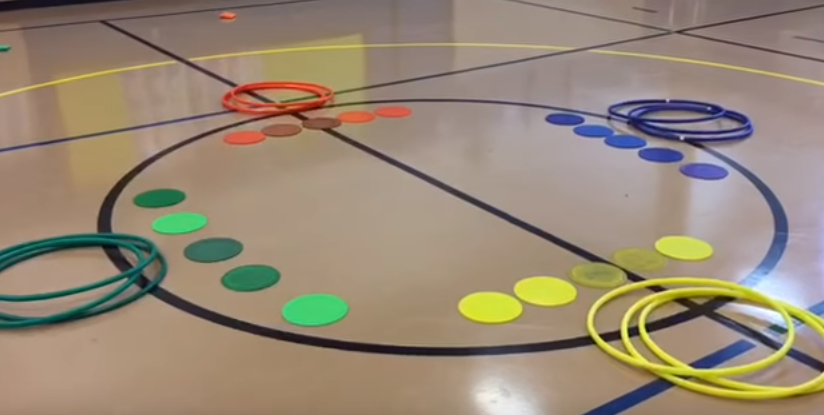 I came up with the idea for Race to the Galaxy (originally named Space Colonies) after reviewing games on the PhysEdGames YouTube channel. Since I'm a huge Sci-Fi fan, I really wanted to add a space-themed activity to my cooperative games toolbelt. I basically took a hula-hoop teamwork activity, added some extra elements, and gave it a theme. Games are so much more engaging for children (and adults) when there's a storyline or narrative behind them. This is why "imagination walks" are so much more powerful with younger students than walking around the gym doing locomotor movements.
Equipment Used:
Storyline & How to Play
This cooperative activity has teams start either together in the center, or in their own areas. The idea is that their planet is almost out of resources, and to survive they need to gather the remaining resources (bean bags) to fuel their colony ship to get to a newly charted planet before others take it. Their planet is mostly toxic lava, so they need to use hovercrafts (hoops) to move around the surface collecting the fuel resources. Once a hoop is placed, it can't be shifted or moved, aside from picking it back up as long as no one is inside it. This means that students need to gather into 2 hoops (how many depends on your group sizes, but I used 3 hoops for 4-6 students), and always place the 3rd hoop in front of them like laying train tracks.
If anyone touches the floor outside of the base or hoops, a penalty is given, which is tossing a collected fuel source in their hands or back at base out into the game area (if they have none, then maybe have them walk back to base and start over). Once they get a resource, they either keep it with them, or venture back to their home base and place it on 1 of 5 poly-spots (fuel tanks). The team that gets all 5 filled first wins the race to the new planet.
Some recommended rules are:
No jumping (safety).
All teammates must be off their base/planet before a bean bag can be picked up (ensure all students are involved).
No tossing bean bags (they have to place them on the fuel tanks).
Video of setup and explanation:
Video of students doing the activity:
New cooperative activity I created based off an idea from the PhysEdGames YT channel: Space Colonies. Ss loved it! #physed pic.twitter.com/douaeGHgOO

— Mike Ginicola (@PhysEdDepot) September 18, 2017
A great way to close this activity is with self-assessment like the following (either initials or Plickers magnets "plagnets" as I use). My classes have had some great social and personal responsibility discussions based on their input. An important topic was the difference between being bossy and a leader. Hope you give this activity a shot!
About the Author:
Mike Ginicola has a Bachelor's Degree in Exercise Science and Master's Degree in School Health. He has been teaching Physical Education for 20 years, and was recently the 2016 recipient of the CT PTA Teacher of the Year Award. Mike currently teaches in Stratford, CT. He loves to innovate and use as much technology as possible. Follow Mike on Twitter @PhysEdDepot and his P.E. YouTube channel: https://www.youtube.com/user/nicholswinterfest