North Park Elementary has been a part of the Let's Move Active School program since 2013 and is proud to be awarded the Let's Move Active School National Recognition Award!  We have been working hard for many years to create a culture of health and wellness in our school. We have achieved this goal because we have taken advantage of many grants and opportunities along the way. Some of these programs include Healthy Highway and Fuel Up to Play 60. This award is truly the result of a team effort and a commitment made by teachers, students, families, and administrators to teach and model the value of healthy choices and a physically active lifestyle.  Of course, this did not happen overnight or without a tremendous amount of effort, but it has all been worth it to see the transformation and be able to make an impact on student health and wellness.
Student Leaders – Healthy Choices
Our students take ownership of their healthy choices at North Park Elementary in many ways. Several years ago we organized a Fuel Up to Play 60 Student Ambassador group. This is an amazing group of students in grades three through five who have been chosen to be leaders of healthy choices in our school. We meet once a month before school and follow the Fuel Up to Play 60 program by implementing at least one healthy eating play and one physical activity play. In past years, this group has organized and sponsored a Veggie Taste Test Day, Bike Rodeo evening, Dance Fitness Friday, and Go Noodle Week. In fact, as a result of the Go Noodle week sponsored by our students, many classroom teachers now use Go Noodle on a regular basis! This year we are creating a video of simple exercises that can be played in the classrooms for Fitness Fridays or classroom activity breaks. We will be debuting it soon!
Fitness Bears Program
A special program that makes me smile everyday is our "Fitness Bears" program. These bears spend time in classrooms so that students can show the bears how to make healthy choices. Physical Eddie and Basketball Betty are our bears this year and they have some pretty amazing adventures at school! Last week one of the fourth grade students stopped to tell me, "Physical Eddie is HEALTHY!". Second grade students participate in a program called Fitness Frankie to Go. Each weekend a different student takes Fitness Frankie home to have a healthy adventure with him. Students contribute to his journal by drawing a picture, writing a story, or posting a photograph. Fitness Frankie has some pretty great adventures too!  I keep a photo album online of our bears' adventures at school. You can view this album here.
Wellness Wednesay & Fitness Friday
Our staff and administrators support our efforts in many ways. Every Wednesday is Wellness Wednesday, during which students can earn a classroom Healthy Highway mile for bringing a healthy snack. Several classroom teachers have added a "Nutritionist" to their list of student jobs so that snacks can be checked. Every Friday is Fitness Friday and students earn classroom Healthy Highway miles for participating in PE, exercise in the classroom, or other special events. For example, sometimes we have a school-wide activity using music and our PA system, other times I invite classes to the gymnasium for a special Fitness Friday activity, and still other times I am a surprise guest and do a special activity with the students right in their classroom!
Annual Wellness Events
In addition, we hold many school-wide events to continue the message that physical activity and healthy choices are important. We have an annual Jump Rope for Heart event during the school day, we participate in Project ACES (All Children Exercising Simultaneously), and this year we participated in PE Gets NY Moving Week which was sponsored by the New York State Association for Health, Physical Education, Recreation, and Dance (NYS AHPERD). Of course, we celebrate the end of each year with Field Days during which cooperation and fair play is emphasized. Everyone understands that students who are more active do better in the classroom and as a result, teachers are flexible in terms of scheduling and many participate right along with our students!
Family & Community Support
Finally, we could not achieve our goal without the help of our families and community. This group supports our efforts by helping students complete Fitness Calendars at home, sending in healthy birthday treats, making sure students bring healthy snacks, volunteering for and participating in our annual Family Fitness Night, as well as being a part of Operation Healthy North Park which is held in May.
I am truly grateful for the support that has allowed us to receive this prestigious award.  Our banner hangs on our gymnasium wall and it is a constant reminder of our commitment to healthy choices for life!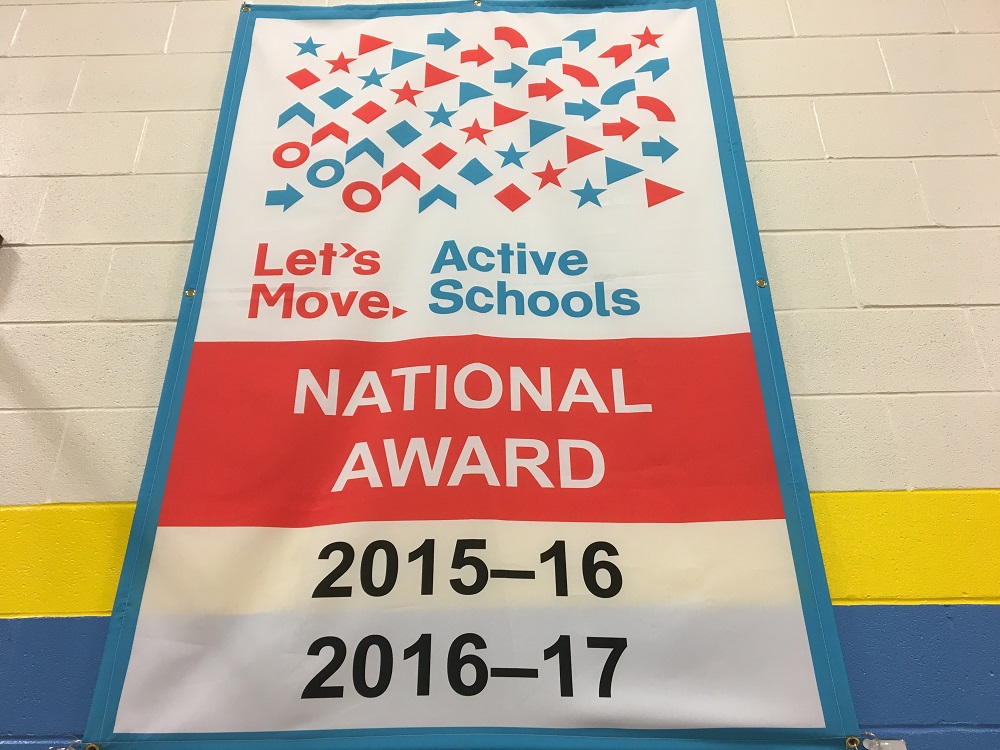 About Let's Move! Active Schools
Let's Move! Active Schools is a sub-initiative of Michelle Obama's Let's Move! campaign. They announced the 2015 National Award recipients which included 525 U.S. schools, recognized for their efforts of increasing physical activity for their students and creating an Active School environment. They are truly School Champions, making a difference in the world of physical education. S&S Worldwide joined Let's Move! Active Schools to support their goal that Active Kids Do Better.
Want your school to become an Active School? Join the movement.
For more Active Schools success stories, visit www.ssww.com/blog/tag/lets-move-active-schools
About the Author: Margaret Robelee is a PE teacher at North Park Elementary School in Hyde Park, NY. She has a blog called The Best Part of My Week and has been teaching for more than 30 years. She is an advocate for quality Physical Education and loves technology. Margaret was honored as the 2011 NYS AHPERD Elementary PE TOY and the 2014 Eastern District of SHAPE America Elementary PE TOY