Help your residents celebrate National Assisted Living Week from Sunday, September 12 to Saturday, September 18, 2021. With this year's theme – Compassion, Community, and Caring – create fun activities in your facility throughout the week that allow your residents and staff members to show compassion, build community, and care for others.
Show Compassion
Provide a variety of fun craft activities throughout the week, and invite residents and staff members to join in to make fun items that can be given to residents, staff members, and family members.
For Residents
Encourage residents to decorate items that they can keep in their rooms, like flowerpots to plant, ceramic trinket boxes, and sun catchers that residents can hang in front of their apartment windows.
For Staff Members
During your craft activities, recruit residents to help you create fun gifts that can be given to staff members and the administrators in your facility. For instance, use rock painting kits in which residents paint and decorate rocks so that staff members can use them as paperweights on their desks. In addition, show residents how to easily decorate bookmarks that can be donated to staff members. Finally, have residents design ceramic mugs that can be given as gifts to your facility's administrators to show their appreciation for the long hours and dedication.
For Family Members
Encourage residents to make fun gifts that can be given to their family members. For instance, supply residents with sensory coloring kits to color pictures to give to loved ones. Additionally, greeting cards can be decorated and filled in with loving notes of support and thankfulness. Finally, provide residents with heart frames to decorate. Then take pictures of your residents that they can include in the heart frame before giving them as gifts to family members.
Building Community
Use National Assisted Living Week to help build community within your facility, in which you invite everyone to participate. For instance, consider hosting Spirit Days throughout the week, where you focus on a central theme each day:
Monday: Sports Day
Introduce residents to different sport activities throughout the day, like an inflatable bowling game, an inflatable dice game to see who can roll the highest number, and an inflatable ring toss game.
Tuesday: Beach Day
Fill pails with sand so that residents can create sandcastles on the back patio tables, like they were at the beach. In addition, use beach balls to play a fun game of beach ball volleyball in the backyard using your backyard volleyball net.
Wednesday: Crazy Hat Day
Invite residents to decorate their own hats that they can wear for the day. In fact, for your really creative residents, supply them with tissue paper and tape to make fun Easter bonnet-style hats. The colorful hats can also be made with variegated colored tissue paper.
Thursday: Western Day
Pass out cowboy hats for residents to decorate and bandanas for residents to wear. Then later in the day, teach residents how to dance the Two Step while listening to country music.
Friday: Make a Difference Day
Assist residents with creating care packages that can be donated to the troops overseas by packing goodies into storage bins to donate. In addition, assist residents with decorating stuffed animals that can be donated to the kids at a local homeless shelter.
Another option besides having a week of Spirit Days, is to plan a few big events for everyone in your facility. For instance, organize a special Thank You Luncheon to pay tribute to the residents and staff members of your facility. During the meal, pass out special spirit award ribbons to give to your most engaged staff members and residents.
Another idea is to host a fun backyard baseball game, in which the staff members play while the residents watch. Simply provide the staff with foam bats and balls to play the baseball game in the backyard – 1st Floor Staff vs. 2nd Floor Staff. Be sure to pass out popcorn and Cracker Jack for residents to enjoy while watching the big game.
Caring for Others
Finally, schedule several activities that demonstrate how much everyone cares for one another. For example, plan a few outdoor evening concerts for your residents in which their favorite entertainers stop by to perform for them. Additionally, help residents bond with one another by participating in fun sing along activities where they sing their favorite classic songs together.
In addition, plan one final car parade of the season, in which family members decorate their cars as they drive through your facility's parking lot. Supply residents with pom-poms and noisemakers to cheer on the family members that ride through.
Find more ideas from Notjustbingo on the S&S blog here.
---
About Not Just Bingo: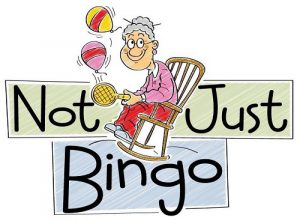 Not Just Bingo is an online resource of fun, senior activity ideas for activity professionals of nursing homes and assisted living facilities. They have been providing fun activity ideas online since 2009, and continue to assist activity professionals across the country by creating meaningful and engaging activity ideas for their residents that go "beyond bingo." Not Just Bingo feels privileged to help activity directors better the living experiences of their residents while demonstrating that a senior's quality of life can actually improve when they move to a nursing facility!
Want even more ideas each month? Visit www.notjustbingo.com for how-to activity ideas, monthly newsletters, and daily holiday ideas. You can also sign up for the Notjustbingo Membership to receive specialized activity ideas to keep your residents and staff engaged, active, and having fun!