Our May Fitness Challenge Calendar is here!
We teamed up with the Alliance For A Healthier Generation to create this fitness calendar for the month of May 2019. Here is the link to the download, which is a total of 5 pages with visuals:
Printable Fitness Calendar May 2019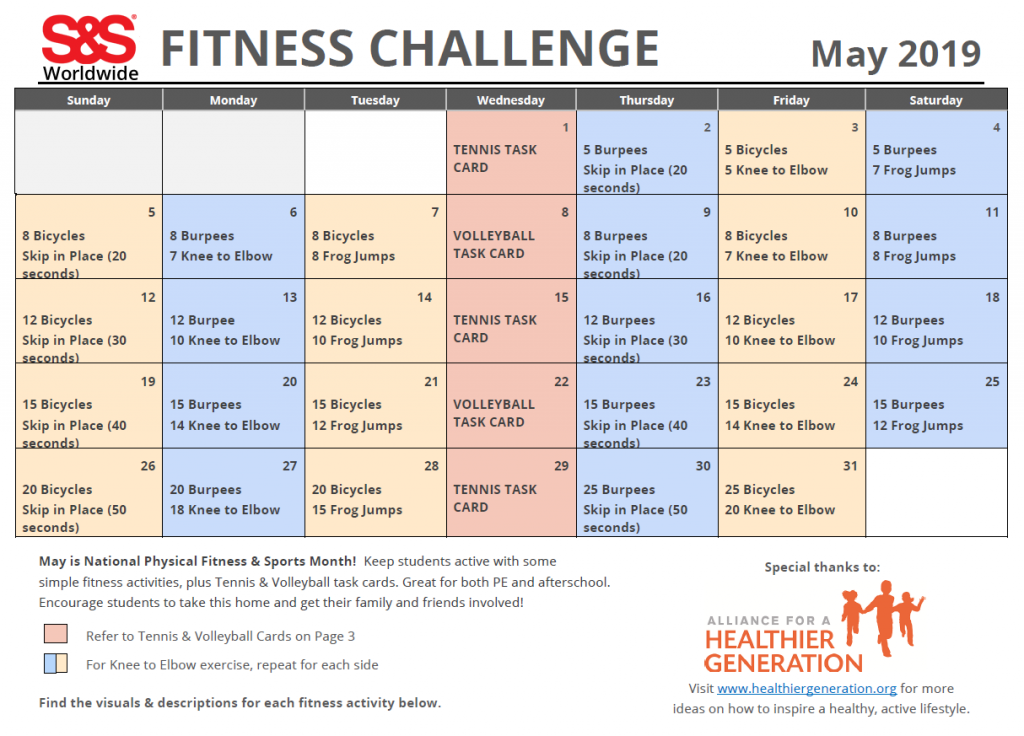 Students are challenged each day to participate in the activities listed on the calendar. For May, kids (and parents!) can practice simple fitness exercises during the week and on weekends, plus some tennis and volleyball themed activities.
Each week, the number of repetitions for each fitness exercise increases. Please keep in mind the number of repetitions is meant as a guide, and can be adapted as needed based on age group and skill level.
On Wednesdays, students will refer to the Tennis and Volleyball Task Cards for sport activities listed on each card. You may choose to only have students use the Tennis Tasks Cards if that is a unit you are focusing on, or only Volleyball, or a combination as shown on the calendar. For tennis, they will work on serving, volleying, overhead shots, and forehands and backhands. For Volleyball, they will work on self sets and passes.
If your students do not have tennis equipment at home, they can focus on volleyball and use a beach ball or fill a balloon with some sand.
May is National Physical Fitness & Sport Month
Be a part of the movement! Physical fitness is exteremely important and is now a huge focus in schools and programs. May is National Physical Fitness & Sport Month, an annual observance that puts a spotlight on staying active, and the many benefits. There are so many ways to get students active and moving, and our Fintess Challenge Calendar is a great place to start. Kids, parents, and teachers can all get involved in this monthly observance. Raise awareness for your program by encouraging everyone to follow the fitness calendar, which includes simple activities plus two different sports, tennis and volleyball. Switch it up and match the calendar to the sports you are playing in your PE unit or afterschool program. View our list of sports on page 5 of the May Fitness Calendar!
Be sure to get involved on social media with the hashtags #MoveinMay and #GetActive.
Task Sheet
Download our printable Fitness Challenge Task Sheet for your participants to fill out each day. They will record what exercises they did and put a check mark in the completed box if they completed the number of reps on the calendar. There is also a self-assessment section which is great for social emotional learning. Kids will circle the emoji that best describes how they felt after doing the exercises. The notes section is a place where they can jot down anything related to the activities, and also a great place to record their hobbies they did each Saturday this month.
Get the printable Task Sheet here.
Certificate of Completion
Reward your students for completing the Fitness Challenge! View our printable Certificate of Completion below specifically designed for the month of April. It will open up a Word Document with the template – you just have to fill in the names of your students where it says Enter Name Here.
Get the printable Certificate here.
Additional Resources
Here are some great additional resources:
We would love to hear your feedback in the comment section below!