Fitness and nutrition go hand-in-hand, which is why we have compiled PE Central's top fitness themed lesson ideas, best practices, and bulletin boards in honor of March being National Nutrition Month. Here are some great lessons and activities for you to try in your classroom this month.
Fitness Bulletin Board Ideas
The Purpose of Fitness Testing – A great bulletin board for students to visualize both fitness and health components, just in time for Nutrition Month.
#Fitness Words – A "fun and modern way" to introduce a fitness vocabulary to your students in a visual way.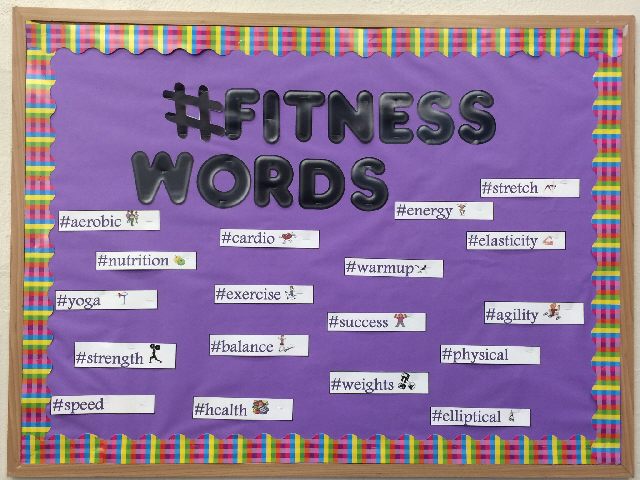 Fitness Testing: What Muscle Are You Working On? – This bulletin board helps students visualize what muscles of the body each fitness exercise utilizes.
Best Practices
For more Best Practices, type "fitness" into this PE Central search box.
Dance
Walking on Sunshine Fitness Dance – Recommended for students in grades K-2, students will learn different types of fitness activities while grooving to this classic song.
Health
Fitness Lesson Ideas
Instant Activities
Types of Fitness Check – Suggested for grades K-2, this warm-activity helps students identify different kids of fitness activities.
Fitness Superhero Rap Warm-Up – This warm-up activity is designed for students in grades 3-5. Students will do the actions included in this "superhero rap" (video in post). A fun start to any PE class!
Musical Fitness Dots – Suggested for grades 3-5, this activity gets students excited about exercising with music.
Grades K-2
Superhero Fitness – Students will rotate playing the roles of Kid Cardio, Mr. Flex and Miss Muscle, three superheroes who have been sent to save the children by teaching them how to be healthy.
Eggs for Fitness – What do hula hoops, frisbees and plastic colored Easter eggs  have in common? This lesson plan!
Cardio Drumming to Ghostbusters – Students will learn fitness skills while learning about how to move to the rhythm and beat.
Grades 3-5
Grades 6-8
Around the USA Fitness – Students will learn new skills and freshen up on their geography knowledge in this activity.
Grades 9-12 
High School Fitness Scavenger Hunt – This scavenger hunt, with worksheet and exercise activities include, is one of the best activities to add fun and excitement to the daily PE routine.
Theme Fitness Fridays: Rocky – Ever held a Fitness Friday before? If not, it's definitely something you might want to consider with this activity based on the Rocky movies.
Assessments 
Fitness Homework – After the fun and games, see how much your students have learned with these free, printable worksheets.
Fitness Stations Self-Assessments – Designed specifically for students in K-2, students will rate their performance with a variety of fitness stations.