How are you and your senior residents celebrating Diwali this year? If your residents are not familiar with the annual Indian festival, then be sure to create fun activities for the day that educate them about the holiday. Here are five facts & activities about Diwali:
1. Diwali is called the Festival of Lights.
Since participants of the festival use diyas (candles) to illuminate their homes, show residents how to make their own lights by assembling craft stick lanterns that can be painted in the vibrant colors that are associated with Diwali and Indian culture. For the lanterns, first have residents paint the craft sticks and wooden shapes in the kit. Then once the wooden sticks and pieces have dried, show them how to glue them together using the wax paper to assemble the lanterns. Finally, insert the faux tea lights and place the finished lanterns as table centerpieces in your dining hall for a fun Indian-inspired meal.
2. Rangoli designs are art patterns created on the floor during Diwali.
Since it may be difficult to find an area in your facility for residents to decorate the floor like the Rangoli designs in India, instead provide residents with kits where they can showcase their creative design. For example, use foil leaf mosaics, where residents create their own design on the black chipboard before gluing on the colorful foil leaf sheets. Another option is to use sand art mandalas, where residents only need to peel off the protective paper from the mandalas before sprinkling on the sand. If instead of using a kit, your residents want to make their own mandalas, then download India-themed coloring pages from the Internet to cover with colored rice using tacky glue.
3. Sweets are given as gifts during Diwali.
Since Diwali has been nicknamed the "Indian Festival of Sweets" due to the exchange of sweets on the holiday, add in a few fun activities featuring candy with your residents. For instance,host a fun geography trivia game and pass out sugar free candy as prizes, or recruit residents to make their own candy crafts by assembling candy bead art.
4. Card games and gambling are a favorite pastime during Diwali.
While residents may not want to gamble like many do during the Diwali holiday, show them a few fun card games in your activity room, like Phase 10 or Uno.
5. Yoga originated in ancient India.
Finally, since the practice of yoga began in Northern India, show residents how to center themselves during your exercise class as you teach them how to perform chair yoga.
Find more ideas from Notjustbingo on the S&S blog here.
About Not Just Bingo: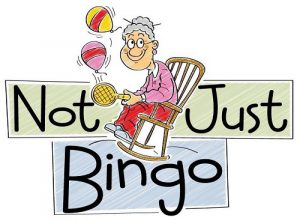 Not Just Bingo is an online resource of fun, senior activity ideas for activity professionals of nursing homes and assisted living facilities. They have been providing fun activity ideas online since 2009, and continue to assist activity professionals across the country by creating meaningful and engaging activity ideas for their residents that go "beyond bingo." Not Just Bingo feels privileged to help activity directors better the living experiences of their residents while demonstrating that a senior's quality of life can actually improve when they move to a nursing facility!
Want even more ideas each month? Sign up for the Notjustbingo Membership to receive specialized activity ideas to keep your residents and staff engaged, active, and having fun!